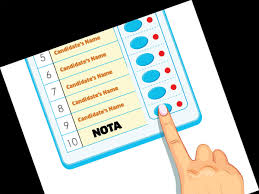 Panaji: Senior Journalist and Editor of In Goa News channel, Anil Lad, has filed a formal complaint with State Election Commission against the non-inclusion of None of the Above (NOTA) option on the ballot paper during Zilla Panchayat poll.
In his complaint to the SEC, Lad has said that during his visit to polling booth, he realized that there is no option of NOTA on the ballot paper, which violates the basic right of the voter to chose "none of the candidates."
He said that the voters are left with no option to reject all the candidates.
Lad has sought clarification from the SEC as to under which law, such an important column was excluded from the ballot paper.