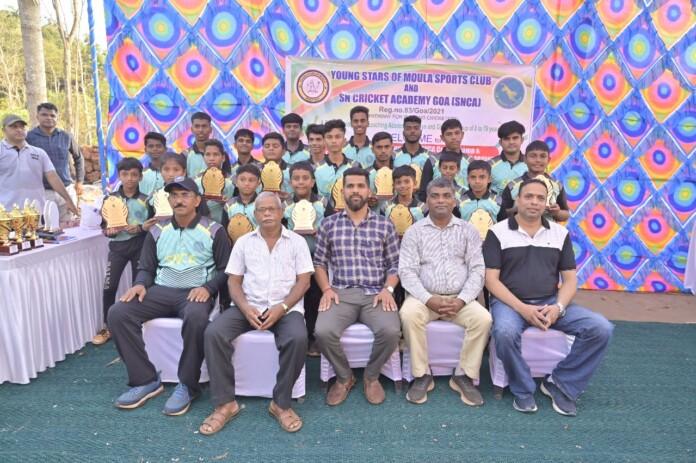 It is a matter of pride that Sanjay Naik Cricket Acadmey has been on the forefront of providing comprehensive cricket coaching and mentoring to budding cricketers from all over Goa through the facilities such as net practice and use of bowling machine along with expert coaching by Sanjay Naik and his team at Batim in St Andre constituency. This was the view expressed by St Andre MLA Viresh Borkar who was speaking as a Chief guest at the valedictory function of SNCA cricket coaching camp and felicitation of champion cricketers of Young Stars of Moula, Batim(YSM) that was held at SNCA arena. He further stated that he is trying his best to provide best sports facilities to the youth of St Andre and also try to help SNCA to upgrade the infrastructure.
Prof Ramrao Wagh, local social worker and well known crikcketers Uday Naik, Marvin Carvallo and Anand Majalkar were also present as guests for the function.
Before the function guests took a round of the facility that has two net practice facilities and a bowling machine with ability to practice at night under flood lights.
Ramrao Wagh in his speech praised Sanjay Naik for taking the challenge to provide quality coaching to budding cricketers who are now being selected in various teams at Goa state level. He also congratulated the senior cricket team of YSM, Batim that emerged as state level runners up after being champions at North Goa and Tiswadi level in this season. He reminded that one of the greatest cricket player Sunil Gavaskar's roots link to this village of Gaunshi(part of Batim Village) and hence it is not surprising that the village now boasts of cricket achievements. He lamented the lack of cricket and other sports infrastructure in St Andre constituency and appealed to all to work together forgetting their differences to improve sports. He also expressed his desire to hold cricket talent discovery and guided coaching of prospective players that belong to economically weaker section and expected wholehearted government support to such facilities to continue functioning even in off season(monsoon period).
Cricketer Anand Majalkar highlighted the need of affordable cricket ground in Tiswadi for season ball cricket which is seriously lacking for over past several years and hoped that improvements will take place in this regard.
Marwin Carvallo advised the trainers to maintain discipline and focus. Uday Naik also expressed his view. Two of the parents of the trainers Mr Gajanand Parab and Nilesh Naik also expressed their satisfaction about the quality of coaching provided by Sanjay Naik at the academy.
The cricket team members of YSM, Batim that emerged as runners up at the B Division of GCA during this season were felicitated by the guests. They included- Ajinkya Chari, Yuvraj Palkar, Anup Naik, Mahendra Naik, Swayam Naik, Rajesh Tukadia, Kaustubh Pingulkar , Ruju Madiwal, Harsh Jetaji , Abhishek Singh, Kronji Tirki, Sanjay Naik Jr., Akshay Khope , Sarthak Walke , Suraj Ghod , Pawan Anand , Hitesh Talwar ,Sanjay Naik ( Captain & Mentor of team) and Padmesh Pingulkar- Manager.
All the players (boys and girls) who completed the six month cricket coaching under SNCA were given certificates at the hands of the guest.
Shri Sanjay Naik , proprietor of SNCA welcomed the guests, Swayam Naik proposed vote of thanks while PAdmesh Pingulkar compered the programme.
The function was attended by large number of parent, sports lovers and well wishers.
YSM Batim has noe completed almost 40 years and has been one of the few clubs devoted to Cricket in Tiswadi which has been consistently participating in tournaments at various levels. SNCA founded by Sanjay Naik has also been functioning for last 10 years out of which first few years were at Fr Agnel HSS Pilar where it helped the school to participate in U14 and U16 tournaments before moving to its own premises at Maina Batim.