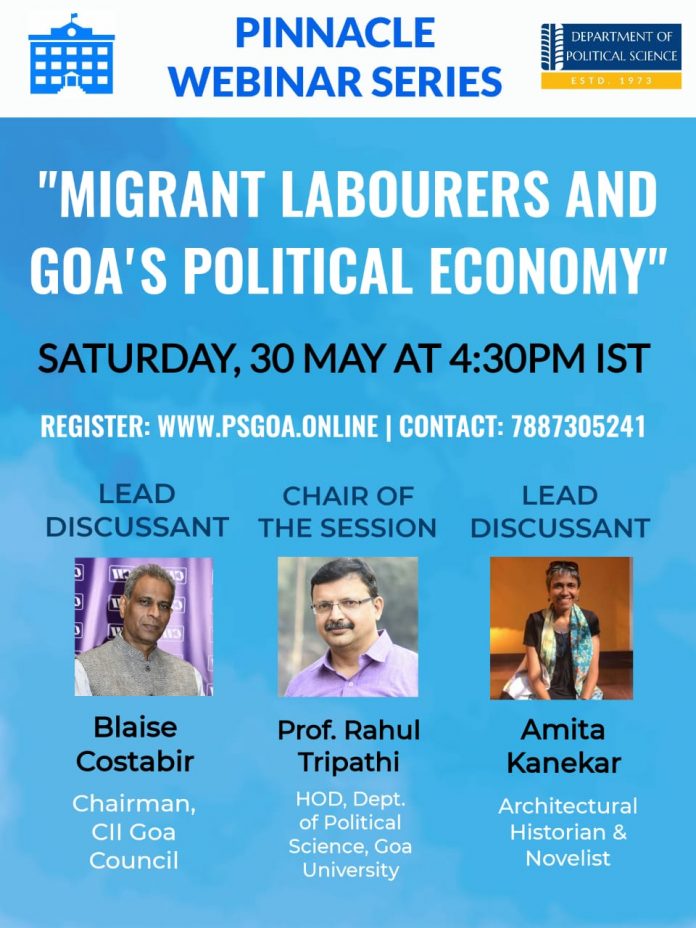 Panaji: The impact of Coronavirus pandemic has been felt across the globe. The working class has suffered immensely due to the pandemic's impact on the economy. In india, Images of labourers undertaking long journeys on foot continues to flash on TVs and newspapers. Goa too is bearing the impact of the pandemic.
Under these circumstances, Pinnacle, a students' club from the Goa University, is organising a webinar on the topic of 'Migrant Labourers and Goa's Political Economy' on the occasion of 'Statehood Day'. It will be held on May 30 at 4:30 pm.
Discussion aims to reflect on the issues of Migrant labourers in Goa and how they can be contextualised in Goa's Political Economy. It will also deliberate on how the Goan industry as well as government is dealing with the crisis caused due to Coronavirus with regards to Migrant labourers and what will be the way forward.
Prof. Rahul Tripathi, HoD of Dept of Political Science, Goa University will be chairing this open webinar discussion. Blaise Costabir – Chairman CII Goa Council and Amita Kanekar – Architectural Historian & Novelist will join as Lead Discussants.
Webinar is organised in association with the Department of Political Science, Goa University. The event is open for all to attend via live-stream link or even participate in the discussion through Google Meet platform. Pinnacle club is an initiative led by students from Goa University. As part of its activities, the club has held discussions on various topics across the different departments of Goa University since 2018. All its discussions have been free & open for the public to attend and participate.
To register visit WWW.PSGOA.ONLINE or contact Aniket Kanolkar on 7887305241.