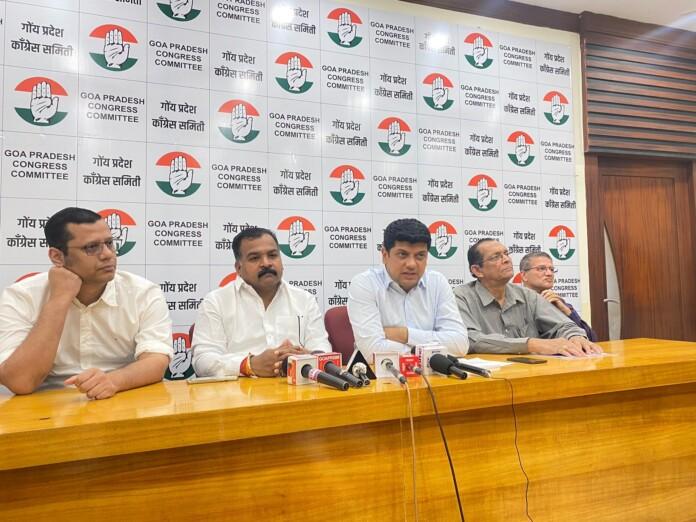 Panaji: The Congress Party in Goa on Saturday gave a deadline of a week for State Chief Minister Pramod Sawant to condemn statement of Union Home Minister Amit Shah on Mhadei issue.
The Political Affairs committee of party's Goa Unit met on Saturday in Panaji which was attended by party's Goa Desk incharge Manickam Tagore, Goa Pradesh Congress Committee President Amit Patkar, Leader of Opposition Yuri Alemao and South Goa Member of Parliament Francis Sardinha participated in the meeting.
Addressing a press conference, Patkar said that Chief Minister Pramod Sawant should condemn the statement of Amit Shah.
"No amount of statements by Proxy ministers is sufficient to the people of Goa. Goa wants to know truth only from the mouth of Dr Pramod Sawant," Patkar said reading the resolution passed during the meeting.
The meeting resolved that if Goa CM does not condemn the statement of Shah then it is clear that Goa has sold river Mhadei to Karnataka politics.
"We demand that Goa CM should condemn the statement of Amit Shah by Friday. We are giving him one week's time," he added.
Patkar said that the Congress party will also hold protests in Panaji and Margao on coming Monday against the scam involving Adani, LIC and the SBI.
He accused the central government of "trying to protect Adani using funds of the people through SBI and LIC."
The Goa Congress chief said that the party will hold demonstrations outside LIC office in Panaji and SBI Bank in Margao (South Goa) on Monday.
Talking to reporters, Tagore said that the Congress party is working towards rebuilding the organization.
"The organization will be built to capture the hearts of the people of Goa in 2024 by winning both the Lok Sabha seats," he said.
Tagore said that the Congress party will continue fighting the corrupt BJP-led government in the state.