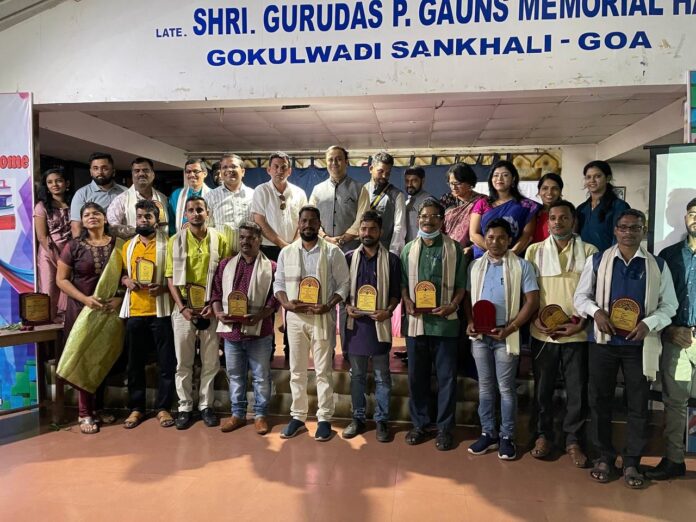 Sanquelim: In a bid to recognise the work put in by journalists during worst ever pandemic phase and even after that, JCI Sanquelim felicitated several journalists in and around the town.
Editor in Chief of Prudent group Pramod Acharya was the chief guest for the function which was also attended by founder of Goa News Hub Rupesh Samant.
JCI Sanquelim President JC Chetan Salelkar , Zone Vice President 2022 JC HGF Shaba Gauns and Secretary JC Nikita Desai were also on the dais.
Past JCI Sanquelim President 2021 JC Shaba Gauns presented a report detailing the activities taken up during his tenure.
The journalists from print, electronic and digital media were felicitated by the institution honouring them for their efforts put in during pandemic time, at times, risking their lives.
Speaking on the occasion, Acharya recalled how the entire media offices used to be infected with COVID-19 pandemic, leaving the managements to work with wafer thin staff.
He said that the best quality that Journalists across all the spectrum and areas displayed is that they never refused to cover an assignment.
"May be covering municipal election or walking into the wards of covid patients in GMC to expose oxygen shortage stories, the journalists left no stone unturned to ensure that the accurate coverage reaches to the audience," he said.
Acharya thanked JCI Sanquelim for recognising the unsung heroes of covid-19.
Responding to the honour, veteran journalist Uday Sawant said recalled how they used to bypass the main roads to reach to the villages which were designated as containment zone.
He said that the stories pulled up from the containment zones brought to the attention of the government, the plight faced by these people.
Veteran writer and academician Raghoba Pednekar said that the challenges faced by the journalists needs to be highlighted. He said that the community and journalists should reciprocate each other.
Journalist Rupesh Samant said that the plight of journalists in understanding the exact kind of virus and the way it should be presented in the news was the first challenge.
He said that several jounrnalists despite testing positive continued hitting the fields.
Earlier, in his presidential speech Chetan Salelkar saluted the journalists for putting up the best efforts. He recalled how journalists were on the field when entire population was locked in the houses to save their lives.
Salelkar said that JCI Sanquelim's initiative to honour journalists is a gesture to recognise their efforts and thank them.
On this occasion,
Shri Dashrath Mukund Morajkar
Shri Devendra Gawas
Shri Kalpesh Punaji Gawas
Shri Uday Rama Sawant
Shri Raghoba Lavu Pednekar
Shri Narayan Tanaji Gawas
Shri Suresh Mayekar
Shri Vitthal Parwadkar
Shri Devidas Gaonkr
Shri Vishwanath Nene
Shri Ramnath Parab were feliciated.
JCI Sanquelim Secretary Nikita Desai proposed vote of thanks while the function was compered by Junior JC Tisha Saglani.