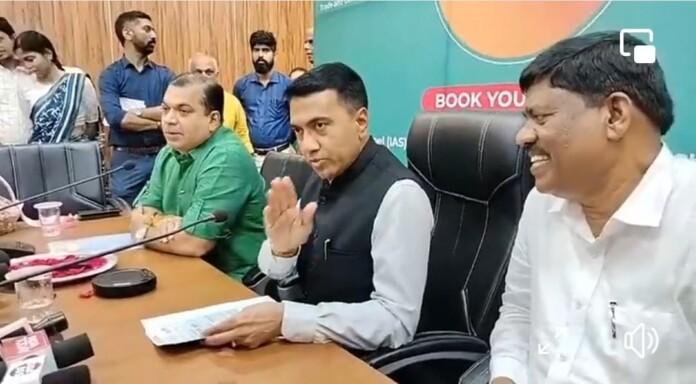 Panaji: The Goa government on Friday launched "Goa Taxi App", the state supported platform to online book the taxi service in the coastal state.
State chief minister Pramod Sawant in presence of State tourism minister Rohan Khaunte, Chairman of Goa Tourism Development Corporation Ganesh Gaonkar, Director of Tourism Suneel Anchipaka launched the App.
Sawant said that with the launching of this App, the technology is brought into the tourism sector, which will provide the much needed facility to tourists visiting the coastal state.
He said that the tourist footfalls in the state will increase, once they are assured of their safety and introduction of Taxi App is a major step towards it. He said that all the tourists should feel safe in the state, which will help in growth of the tourism.
Sawant said that the introduction of the App will also help reduce the travelling cost for the tourists, who have been complaining about the exorbitant taxi fares in the coastal state.
"Tourists were complaining that it is cheaper to travel by flight from Mumbai to Goa but costlier to reach to the hotel in Goa with the taxi," he commented.
State tourism minister Rohan Khaunte said that Goa Taxi App was already operational on Manohar International Airport (MIA), Mopa since last six months after its soft launch.
He said that more than 500 tourist taxi operators have already joined the App, who are satisfied with its performance.
Khaunte said that the state government has initiated this App to help the taxi operators. The minister said that those who are affiliated to this App will get benefits like widow scheme, pension scheme, financial help for marriage and also scholarship for their children.
"The taxi association has been proposed these schemes," he added.
Khaunte said that tourism is the main vertical of the state's economy. "To increase contribution of tourism to state's Gross Domestic Product, we should be speaking about quality tourists, rather than quanity," the minister said.
He said that when the idea of Goa beyond beaches is mooted, the main concern becomes the transportation for the tourists.
Khaunte said that  the concept also needs to come in wherein the taxi service need not be restricted to tourists but also to the local population to take care of their travel requirements