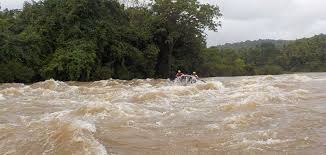 Panaji: Goa government on Tuesday filed a contempt petition before Supreme Court against Karnataka for diverting Mahadayi river water, pending the case before the apex court.
Chief Minister Pramod Sawant announced that the petition has been filed by the State in the Supreme Court.
"Contempt petition has been filed in the Hon'ble Supreme Court today against Karnataka for illegal diversion of #Mhadei water. We will continue to fight for our our right," Sawant tweeted.
Goa and Karnataka are in a fight over the diversion of Mahadayi river water. While Inter state water dispute tribunal has given an award in this case 2018 distributing the quantum of water between Goa, Karnataka and Maharashtra, all the three states had filed Special Leave Petition before the SC challenging it.
The recent media reports had claimed that Karnataka had diverted the Mahadayi river water upstream even as the petition is pending before the Supreme Court.