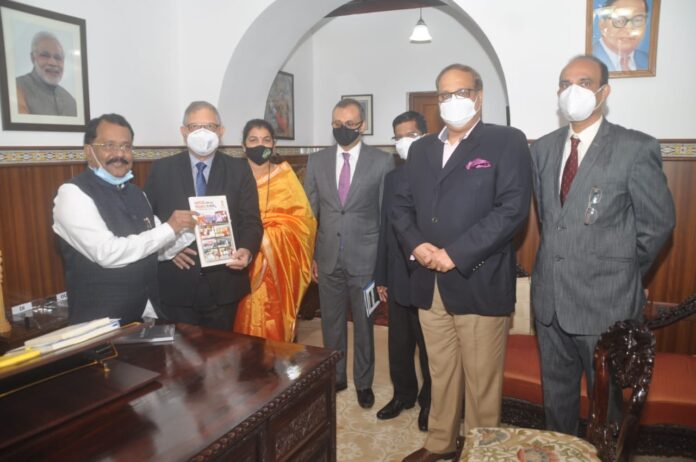 Panaji: Goa Chambers of Commerce and Industry delegation comprising of the president Mr. Ralph de Sousa, Mr.Srinivas Dempo, Ms. Pratima Dhond, Mr. Manoj Caculo, Mr. Chandrakant Gawas and Mr.Kishore Shah visited the Hon.GovernorH.E. Mr. P S Shreedharan at his residents and welcome him to Goa
The Hon.Governor took keen interest in understanding the activities and initiatives of the Chamber of Commerce and Industry. He was impressed by the work of Women's wing which was shared by Ms.Pratima Dhond.
Mr. De Sousa also shared the current challenges and problems that the state is facing due to the mining closure, as well as the Covid impact on Tourism,Retail and Industry  at large in Goa, and also appraised the Governor of the support of the chamber members to the State Government and the community during these crises.
The delegation appraised the Governor of its recent intervention to solve the issues faced by the trading community and its request to the CCP for concession on taxes and levies during the pandemic period when the establishments were shut, and this was accepted by the CCP.
Hon.Governor was impressed with the structure of the chambers 15 sub committees addressing various sectors in Goa and he showed eagerness to visit the secretariat of the chamber.The President extended the invitation to Hon.Governor to visit the Chamber and also pen a message for the Chamber's flagship publication "GCCI Bulletin" for August issue.