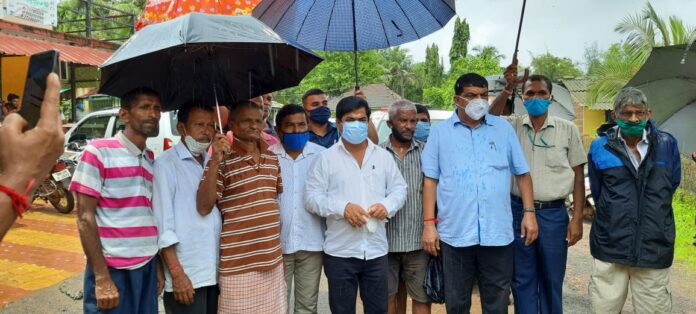 Bicholim: Dy Chief Minister and Agriculture Minister Shri Chandrakant (Babu) Kavlekar visited today the flood affected Sal village in Bicholim Taluka to assess the damage to crops there. He patiently heard the grievances of the farmers gathered there.

Hon Speaker of Goa assembly Rajesh Patnekar, Director Agriculture Nevil Alphonso, Zonal Agriculture Officer Nilima Gauns and others accompaneid the Minister.
While briefing the media about the visit he said that, "the damage is huge. Famers have lot of grievances. I wil come back on Monday after the assembly session with more time on hand".

Dy Chief Minister had to receive the BJP National President Shri JP Nadda at Panaji later in the afternoon. While speaking about the compensation to famers he said, "two years ago also when the flood damaged the crops, this Govt under Dr Pramod Sawant's leadershp cleared all dues. Even those without Krishi Cards, but who cultivated and suffered losses were compensated through CM relief fund. This is a even bigger flood. It rained like never before. Department has done a primary loss assessment. Deatiled will be done shortly Applications to compensate farmers can be submitted to the ZAO even now", he said at the end.