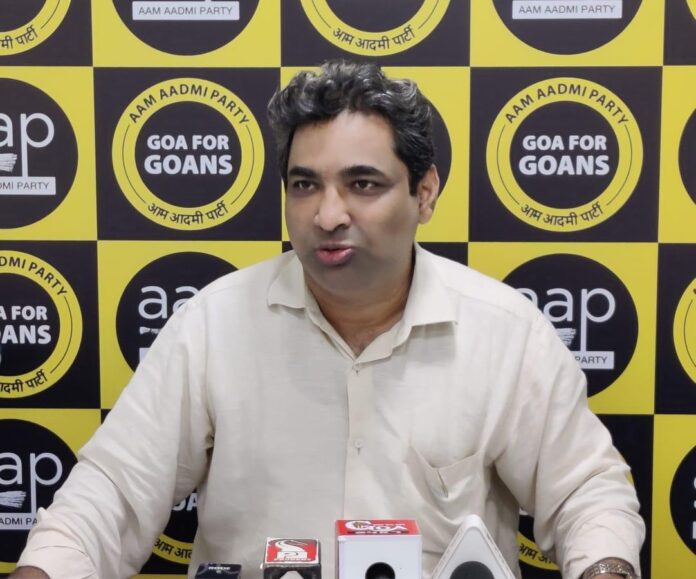 Aam Aadmi Party today demanded the immediate resignation of Chief Minister Dr Pramod Sawant for his failure to provide employment opportunities to Goan youth and instead acting as a broker of government land by manipulating land allotment of Industrial Development Corporation land for a consideration.
AAP Goa Convener Rahul Mhambre alleged that the chief minister along with some of his colleagues have started a business of trading with IDC land and have amassed huge amount of money in the bargain while failing to set up any industries on those lands and hence failed to address the unemployment problem gripping Goa.
He pointed out that construction of the premises has to commence within three years of allotment of the land. However that has not happened with many of the plots and instead what is happening is that the plot is being transferred to some other party.
"Due to this policy there are many plots of IDC that keep getting transferred to different people but no construction is starting on them and hence there is no scope of any industry coming there that would provide jobs to local people," he said.
While pointing out that the Chairman of Industrial Estate at Verna had recently said the IDC is the most corrupt corporation of the government he also pointed out that Comptroller and Auditor General of India has blamed the IDC for allotting plots for entrepreneurs without creating the required infrastructure.
Rahul pointed out that CAG referred to the lack of infrastructure at Panchawadi, Latambarcem, Tuem and Verna industrial Estates due to which the people allotted the plots have refused to pay the premium amount resulting in revenue loss besides delaying "industrialization and job creation."
He further pointed out that CAG had categorically stated that there were several lapses on the part of GIDC and even said the corporation has shown "ineptness" and "poor decision making process" while developing industrial estates and added that at some estates considerable revenue was lost due to "unrealistic fixation of plot rate".
Rahul quoting media reports further said that 32 industrial units claimed to be functioning at Panchawadi Industrial Estate is only on paper while at Tuem Industrial Estate also there are units only on paper but none on ground reality.
Besides, he revealed that CAG pointed out that 62 per cent of the 146 industrial units identified by the task force in 2011 continue to remain non-functional and IDC has failed to take possession of 72 non functional units.
Rahul further revealed that CAG had noted that land measuring 1.9 lakh sq mts has remained idle for about 30 years instead of being places where Goan youth could be working and hence demanded that Chief Minister Dr Pramod Sawant demit office so that Goan youth can have a brighter future.