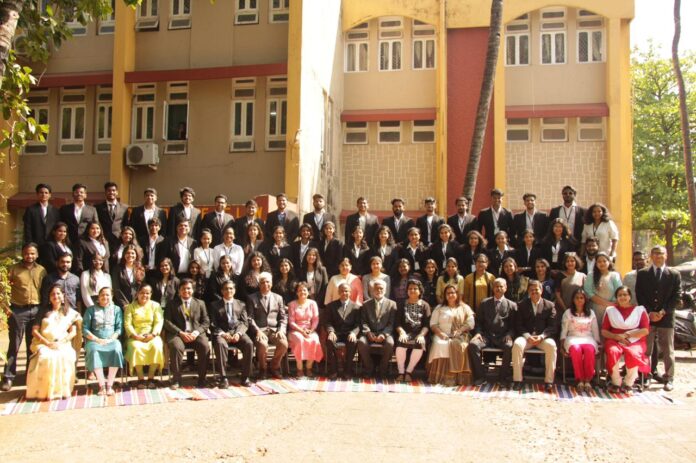 VMSCL, Miramar is proud to have hosted yet another successful edition of Lex Infinitum 2022 that was held in collaboration with the Association for International Dispute Resolution (AIDR). Lex provides opportunities to law students across the world to showcase their Mediation and Negotiation skills.
What is indeed unique about this 7th edition of the international Alternative Dispute Resolution (ADR) competition is that, it was held entirely online via the Zoom platform owing to the current COVID-19 pandemic that has struck the globe.
The competition was conducted from 23rd to 27th February 2022 and was bigger and better with 28 colleges (8 international institutions and 20 national institutes) participating in the event.
All the participants had the unique opportunity to interact with trained mediators and negotiators as well as fellow participants from diverse cultures, which was in itself, an exceptional experience.
The Inaugural Ceremony:
Lex Infinitum 2022 was officially declared open on February 23rd, 2022 in online mode via the Zoom platform.
The inaugural witnessed the presence of esteemed dignitaries such as Dr. Shaber Ali G., Principal of V. M. Salgaocar College of Law, who gave the welcome speech followed by an address by Ms. Catherine Davidson, AIDR Representative.
This was followed by the unveiling of the prestigious Lex Infinitum trophies in the form of a trailer that was streamed online and the Lex Infinitum overview that was provided by Ms. Rhea Almeida, President, Lex Infinitum.
The Chief Guest, Hon'ble Shri Justice Manish Pitale, Judge of The High Court of Bombay at Goa addressed the online gathering and gave us insights into the importance of mediators and some benefits of starting the mediation on a positive note.
The ceremony concluded with a vote of thanks by Prof. Pearl Monteiro. The program was compered by Ms. Sanaya Monteiro.
Knowledge Sessions & Mediation Musings:
Lex Infinitum 2022 flagged off with Knowledge Sessions that were held virtually from 19th to 21st February 2022 wherein experts namely, Kimberly Schrieber who gave an introduction on negotiation, E.O. Mendes who talked about the setting of an agenda and opening statements, Gregory Bond spoke about how parties should gather parties, Thomas Valenti, discussed how to deal with difficult negotiators and what once must do when we reach in impasse in a mediation session.
Catherine Davidson talked about how to conduct mediation in times when things are moving to virtual platforms, and the las knowledge session was conducted by Charles La Fond who spoke about negotiation in the work place.
These Knowledge Sessions were thrown open to all who have interest in getting a grasp of the art of Negotiation that was delivered by some of the best Negotiators and Mediators known across the globe.
Additionally, Lex 2022 also witnessed Mediation Musings – 'Will the Bill Kill?' Legislation in ADR on 21st February 2022 from 6:30pm – 7.50pm (IST) on the ZOOM platform.
This year also witnessed participation from international teams hailing from countries such as Singapore, England, New York, Ireland, California, Brazil, Poland, Sri Lanka, Russia, Belgium, Nigeria and many more, besides multiple teams from across India as well.
The Valedictory Ceremony:
The Valedictory Ceremony of Lex Infinitum 2022 was once again executed virtually via the Zoom platform on 27th February. The Chief Guest for the said ceremony was Hon'ble Shri Justice Mahesh Sonak Judge of The High Court of Bombay at Goa.
The ceremony kicked off with a Welcome Address by Dr. Shaber Ali G., Principal, V M Salgaocar College of Law. This was followed by an Address by Mr. Tanmay Pandey, AIDR Representative.
Thereafter, the Lex Infinitum 2022 Report was read out by Ms. Rhea Almeida, President, Lex Infinitum, 2022. This was followed by an address by the Chief Guest Hon'ble Shri Justice Mahesh Sonak, which was then followed by the much-awaited prize distribution ceremony.
The Prize Winners at Lex Infinitum 2022 are as follows:
• 1st Place Negotiating Team – APIIT SRI LANKA (T-16)
• 2nd Place Negotiating Team – OP JINDAL (T-26)
• 1st Place Mediator – NUS SINGAPORE (M-13)
• 2nd Place Mediator – NLU JODHPUR (M-01)
• Dr.MRK Prasad Incentive Award (Negotiating Team) – Chapman University (T-07)
• Dr.MRK Prasad Incentive Award (Mediator) – New Castle UK (M-04)
The Valedictory ceremony concluded with a Vote of Thanks that was proposed by Prof. Pearl Monteiro, Director of Lex Infinitum who personally extended her gratitude to the Chief Guest, Experts, Faculty, Organising Committee, and Volunteers for making this virtual edition of Lex Infinitum 2022 a majestic accomplishment!
VMSCL sincerely hopes to resume its offline mode of the global competition by this time, next year and cannot wait to host its participants right here in our wonderful state of Goa.
This virtual edition of Lex has been a novel experience for all and despite all of the hurdles faced, the institute is grateful to have successfully pulled off the competition and upheld its reputation as hosts to one of the best ADR competitions in the world, that being, Lex Infinitum!