Panaji: Display of BJP banners alongside 'Tika Utsav' held to accelerate the pace of vaccination has not gone down well with the opposition parties in Goa.
While the state is witnessing Code of Conduct due to elections in five municipal councils, the banners displayed during the central government's scheme seem to be projecting a wrong picture.
The displaying of banners is a violation of orders of State Election Commission which has urged the 'Tika Utsav' to be apolitical.
While Director of Health services was not available for his comment, the sources stated that he has already directed Medical Officers of various Health Centres to ensure that political mileage is not gained from the event, which aims to protect the people from covid-19.
But situation seems to be otherwise with some medical officers posing for the pictures along with BJP officials for 'Tika Utsav.'
Amongst the opposition, Porvorim MLA Rohan Khaunte expressed his reservation of politicisation of the event. Khaunte tweeted "SEC's warning against politicisation of 'TikaUtsav' hints at the ruling
@BJP4Goa already manipulating the vaccination campaign for electoral benefits. Exploiting vaccination for politics is Disgraceful !"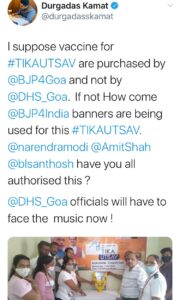 Goa Forward Party's Vice President Durgadas Kamat tweeted "I suppose vaccine for #TIKAUTSAV are purchased by @BJP4Goa and not by @DHS_Goa. If not How come @BJP4India banners are being used for this #TIKAUTSAV.  @narendramodi, @AmitShah, @blsanthosh have you all authorised this ? @DHS_Goa
 officials will have to face the  music now !".