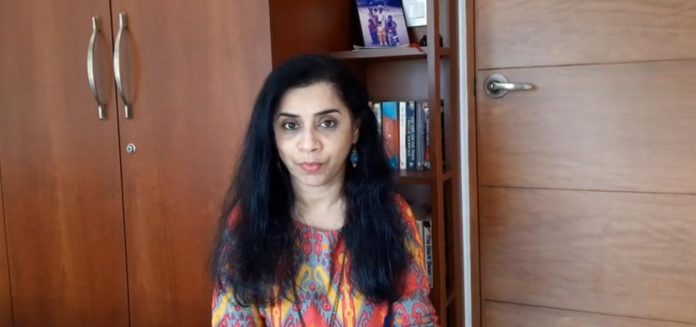 Margao: While students waiting for their crucial SSC examinations remained indoor locked down to save themselves from COVID-19, Margao-based English teacher Rati Bhatikar has come up with the much needed help.
The teacher has designed English tutorials online for the students for them to find it easier to prepare  for the examinations, even after staying away from the classroom.
Bhatikar has been teaching English at Bhatikar Model High School, Margao, for the last 26 years.
"When the lockdown was announced, the challenge was how to reach out to my students who were waiting to answer their SSC examination," she said.
"That's when I thought I should take some initiative that could be of help not just to my students but to any student of Std X in Goa who needed some guidance in English," she added.
She has  initiated her YouTube channel 'Learn English with Rati Bhatikar' which explains the lessons contained in 'First Flight' – textbook in English for Std. X, prescribed by Goa Board.
"I have also included grammar components," she added.
Bhatikar said "I believe that there is no substitute to classroom teaching, at least at the school level. However, we must make use of technology to ensure that learning is not hampered during times such as the present."
"The tutorials that I have designed are certainly not a substitute to the classroom lectures. However, they serve a dual purpose: for students awaiting to answer the Std. X examinations, they serve the purpose of revision of key concepts," she explained.
"For students of Std. IX promoted to Std. X, they provide an overview of the lessons well before commencement of the classroom sessions," Bhatikar said.
The teacher said that the lockdown gave her the opportunity to do things differently.
"This initiative is certainly not restricted to the period of lockdown. I intend to take this initiative forward and design several tutorials for the benefit of learners of various age groups."
For Bhatikar, while teaching is her passion, she is also actively involved in theatre, features films, short films, and dance.
Following is the link of her tutorials: https://youtu.be/BAoOK7ydMBQ
https://www.urbanladder.com/products/liverpool-sofa-blue?src=listing-fabric-sofas