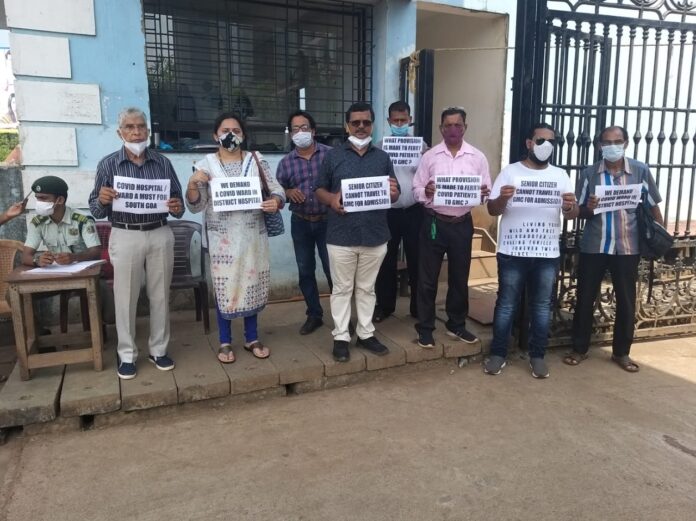 Margao: The Shadow Council for Margao on Friday held a protest at the South District Hospital Margao, over the closure of the COVID ward there. Holding placards in their hands, Savio Coutinho, Adv. Snehal Onskar, Jose Maria Miranda, Agostinho Gama, Albert Fernandes, Zabir Shaik, Damodar Onskar, Tony Fernandes and others protested at the entrance of the District Hospital in Margao.
Led by SCM Convener Mr. Savio Coutinho, a demand was made for a COVID ward with a minimum number of beds for the benefit of the patient's from the South Goa.
Speaking to the media Mr. Coutinho stated that the shifting of the Hospicio Hospital to the new District Hospital is definitely a welcome, but the closure of the COVID ward is unacceptable. The reason cited for the closure is the less number of patients seeking admission. Does it mean that the positive patients from south Goa should suffer because the health department finds it a burden to manage a COVID ward for South Goa?, questions Mr Coutinho. This Morning I received a call informing me about a 90yr old senior citizen testing positive for COVID. Upon inquiries with the District Hospital authorities, I was amazed to learn that no COVID patient can be admitted to the district hospital. How much inconvenience it may have been for this patient to travel to the GMC can well be imagined, Mr Coutinho remarked.
Mr Jose Maria Miranda sought to know whether this BJP government is in its senses to arbitrarily shut down the COVID ward for South Goa. He suggested that since the Hospicio Hospital is vacant, a ward should be set up there he said.
Mrs Radha Kavlekar stated that her 90 yr old Father in law required to be admitted as he tested positive. We contacted Margao MLA Digamber Kamat and he said that the District Hospital would admit him as Mr Kamat had requested them to do so. But admission was denied she said while explaining the condition of the patient due to his age.