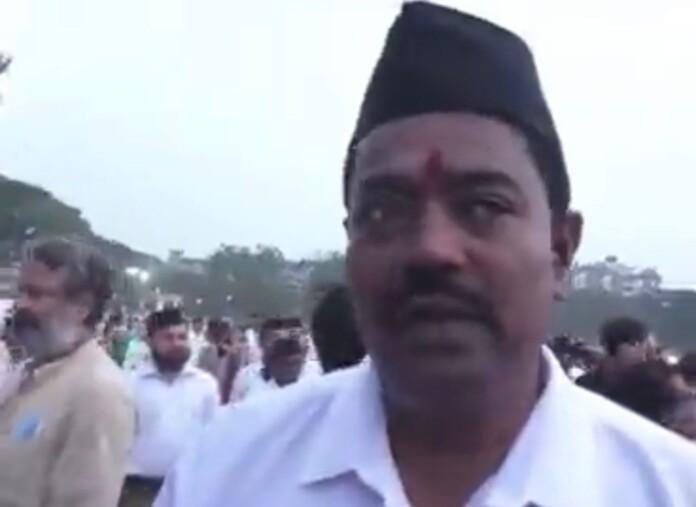 Panaji: Following former Congress leader Sankalp Amonkar's admission of his closeness to the RSS since his college days, a full fledged war of words have broke out within the Congress with party leader Capt Viriato Fernandes accusing the full gang of having understanding with the RSS.
The war of words which broke out on Twitter has Congress voices including Shamila Siddiqui, Amarnath Panjikar, Capt Viriato getting deeper into the mudslinging.
While the attack was initially against ex-GPCC chief Girish Chodankar, he has maintained silence on the issue.
The war began with Siddiqui's tweet "We expect former @INCGoa President @girishgoa to explain to Congress Workers if he was aware of this background of this Chameleon. This Betrayer was his close aide who managed all his operations. @manickamtagore @amitspatkar @Yurialemao9 @carlosgoa25 @altone_d @MKShaikGoa"
Unexpectedly, Congress' Goa Chairman of Media Department Amarnath Panjikar responded to the tweet. He claimed "Never saw  @SankalpAmonkar
 in RSS. He was President of  @NSUIGoa, President of @IYCGoa,
He was Gen Secretary & V P of  @INCGoa. He Contested 3 Elections on
@INCIndia ticket .He was appointed as Dy CLP leader. Why blame only Girish ? You want reply only from  @girishgoa? #Nonsense."
Siddiqui responded again "Mr. @AmarnathAldona I asked @girishgoa
 to explain, not you. The whole world knows his association with betrayer
@SankalpAmonkar. @INCGoa suffered the most because of the compromises, settings of 'Inside Coterie' which claimed blessings of Mr.
@RahulGandhi Ji.  @manickamtagore"
 The twitter-dual continued with Capt Viriato Fernandes pointing out to Panjikar in his tweet. He wrote "t appears that the full GANG was having understanding with the RSS Org. When Amonkar himself admits on Camera that he was associated with ABVP & RSS from college times, is it right to deny that those who supported him in @INCGoa were not compromised with
@BJP4India?"
Capt Fernandes said in another tweet "And I repeatedly brought this to his notice. But probably the bond was too thick. And the remnants are again getting active, and …"
Taking indirect dig at Chodankar, Capt Fernandes tweeted "t's not his fault, but of those who promoted him despite warning about his credentials and double standards years back. And his close associates lurching inside the party need to be purged out."