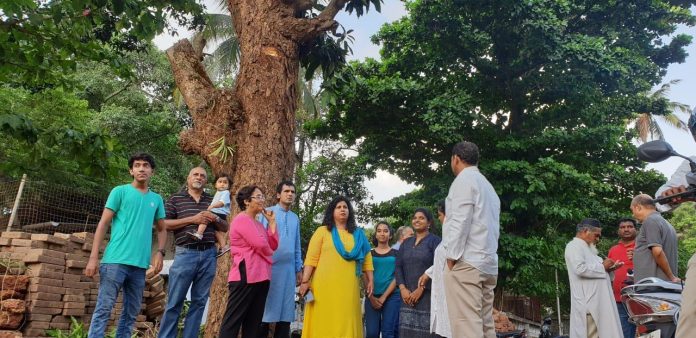 Panaji: Environmentally concerned citizens of Panaji on Monday managed to stop cutting of age-old tree near St Inez crematorium. The citizens including singer Hema Sardesai, Heritage activist Prajal Sakhardande and social activist Patricia Pinto led the protest.
Sardesai said that the state government had specifically assured not to cut the trees near St Inez crematorium, which are existing for ages here. She said that while Chief minister Pramod Sawant has been advising his MLAs to plant trees, his own authorities were cutting existing ones.
She said that a formal police complaint will also be filed against the culprits.
Sardesai said that she was shocked to know in the morning when she was told about cutting of the tree. After intervention at highest level, the cutting was stopped.
She said that Mayor and Deputy Mayor of the Corporation of City of Panaji claimed that they were not involved in the axing of tree but it was GSUDA which was doing it.
Sardesai questioned silence of Corporation of City of Panaji.
Later in the evening, all the activists gathered at St Inez to protest against the move of authorities.
Sakhardande said that they will not allow any one to cut such trees which has been existing for so many years.
Pinto said that the development of the city cannot be just concrete but it should involve preservation of trees.