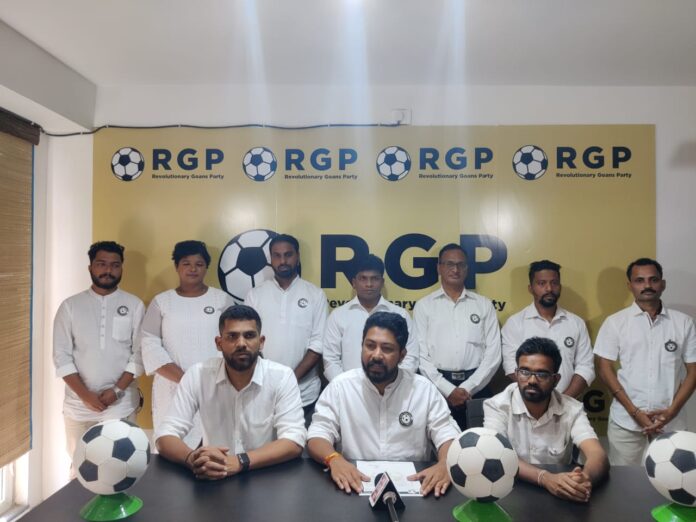 Panaji: Revolutionary Goans Party (RGP) on Tuesday announced their fourth list of seven candidates for the upcoming Goa assembly elections to be held on February 14. RGP was the first political party to announce their candidate list as they were clear of their vision and goal from the very start. These are Samir Satarkar for Poriem; Vishal Dessai for Quepem; Gauresh Mandrekar for Siolim; Desmond Fernandes for Benaulim; Andre Viegas for Vasco; Valerie Fernandes for Fatorda and Gaurish Borkar for Dabolim.
Revolutionary Goans Chief, Manoj Parab announced the fourth list comprising of seven candidates, all of whom have been chosen after consultation with their team working at the grassroots. The candidates have no criminal backgrounds unlike other political parties. They will work for the people and will not be tempted by offers from other parties, assured Parab.
"These candidates will follow all Covid-19 protocols while meeting the people from their respective constituencies. They will be willing to hear and address your grievances anytime. Moreover, people can share their inputs in the vision document being prepared by the party. This is an important process that has to reach out to the masses," said Parab.
RG pointed out how parties from Delhi and West Bengal are trying to make inroads into Goa and has asked the people to be alert and not fall into the trap. While the Bhartiya Janata Party (BJP) was the biggest gainer of defections while the Congress party suffered maximum with its leaders switching sides in the 2017 elections. None of the MLA's and politicians are defecting and existing party or joining a new one due to the common man. The main reasons behind such defections and switching of parties is the absence of value-based politics, greed for money and power and non-presence of laws on functioning of political parties.
"Our candidates are working for the betterment of Goa. They are passionate, dedicated and truthful. Revolutionary Goans Party has been formed to rewrite the history of our beautiful state. Within the next one week the remaining seven candidates will be announced," said Parab.