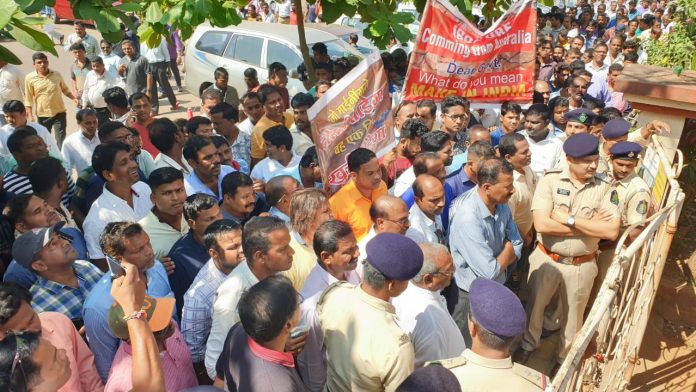 Panaji: In a bid to mount pressure on the Central government to undertake necessary amendments to the Mines and Minerals (Development and Regulation) Act (MMDR) 2015 and Goa, Daman and Diu Mining Concessions (Abolition and Declaration as Mining Leases) Act, 1987, the mining dependents will hold sit in protest at Jantar Mantar on the first three days of the winter session of the Parliament, beginning from December 11.
Nearly 1000, people will be participating in the dharna along with leaders from various political parties like BJP, Congress, Goa Forward and Shiv Sena.
Nearly thousand odd mining dependents under the banner Goa Mining People's Front (GMPF) today marched to Panaji demanding immediate commencement of iron ore activities. Threatening to show their power in the forthcoming Lok Sabha election mining is not resumed by December 15, the dependents met Goa Forward party president and Minister for Town and Country Planning (TCP) Vijai Sardesai, Leader of Opposition Chandrakant Kavlekar, Congress MLA Digamber Kamat, Tony Fernandes and Nilkant Halarankar, Aam Aadmi party and Shiv Sena leaders.
"We have decided to hold protest march at Jantar Mantar on December 11, 12 and 13, which are the first three days of the Parliament session. We have met political leaders for their support and have invited them to be part of the protest," GMPF leader Puti Gaonkar told reporters.
Minister Vijai Sardesai told dependents that the onus of resuming the mining activity is on BJP because they are ruling in the Centre and in the State. "Fortunately for Goa we have a minister who is the member of Union cabinet. According to me, this is the matter of inter departmental coordination within the union cabinet. Shripad Naik is the right person. He himself is aware what would be the impact on his election if this thing are not settled," he said.
Congress party too said that their national president Rahul Gandhi has assured to extend support to the amendments in the Parliament.
LoP Kavlekar said that he will urge BJP state president and MP Vinay Tendulkar to fix or an appointment of all party delegation with Prime Minister Narendra Modi before parliament session.