Valpoi:Chaotic situation prevailed at Guleli Village panchayat on Thursday as several villagers from Shel Melaulim intensified its protest against proposed IIT campus in their village. Sarpanch Apurva Chari had to be evacuated from her office under police protection after crowd turned aggressive.
The empty bottles were also hurled on the Sarpanch when she was escorted out of the office in police protection.
According to villagers they had given a letter to the panchayat, two days ago, asking to state that the IIT project be shifted out of the village.
On Thursday the villagers had gathered in large number near the Gulelim village panchayat to collect the letter from Panchayat but were in a shock to see that the local body had given a different letter.
The villagers, who had gathered there, got furious and aggressive, creating the tension.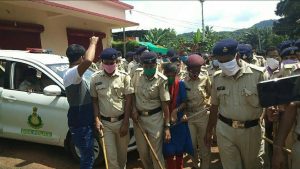 Sarpanch said that the panchayat had received letter from the villagers of Shel Melauli asking the body to copy it on their letter head and hand it over the people. The letter had expressed opposition to the IIT project.
She said that the request was refused as it is not allowed to do so under Panchayati Raj Act.
Shubham Shivolkar, one of the protestor, said that on September 3, they were called by the panchayat to collect the letter, but the body has not gone back on its word.
"We came to know that the panchayat have not taken any stand on our letter. The panchayat have just attached the covering letter to our drafted letter and have submitted to us," he said.