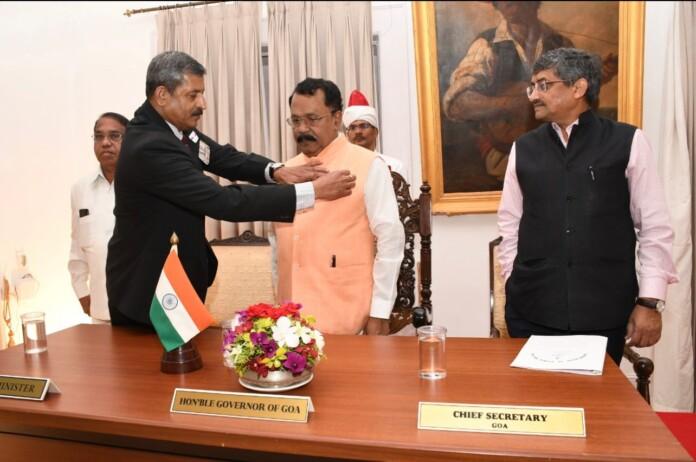 Panaji: Governor of Goa Shri. P. S. Sreedharan Pillai yesterday attended the Armed Forces Flag Day function held at Raj Bhavan (Durbar Hall), yesterday.
The Governor lauding the contribution of the Armed forces' and saluting their indomitable courage in serving the Nation said the armed forces serve the noble cause and we must remember to take care of their welfare and their family.
Further he said India is the fastest growing Country and we can proudly say that we are proceeding towards making our Bharat Vishwa Guru for the peace and prosperity of the people across the world. He also appreciated their services in times of national crisis and calamities.
In his address WRD Minister Shri Subhash Shirodkar said that we can sleep peacefully only because our armed forces are awake and living on the borders of our country. Their act of valour should always remain as the source of inspiration in our hearts.
Secretary, Department of Sainik Welfare pinned the Armed Forces Flag Day sticker on Governor of Goa Shri. P. S. Sreedharan Pillai, WRD Minister, Shri Subhash Shirodkar and Chief Secretary Shri. Puneet Kumar Goel, IAS on the occasion.
The Directorate of Higher Education, Directorate of Woman & Child Development and Commissioner of Excise were awarded at the hands of the Governor for highest collection towards the contribution for welfare fund.
A tribute song to the martyrs was presented by Smt. Samiksha Bhobe Kakodkar.