Panaji: Renowned Goan cartoonist Alex Raphael Fernandes commonly known as Alexyz has created an artwork extending support to the ongoing 'Save Mollem' campaign, to protest against the government's three mega projects.
In a social media post shared by the twitter handle of @savmollemgoa stating Alexyz read, "Why coal when there are eco alternatives. But these ruthless guys have their own agenda to kill Goa's forests, rivers, seas, hills, habitats, to transport coal. Let's shame these guys. Don't be sossegado. Join eco warriors NGO's . Write letters. Be a proud goan. So you can tell your kids, grand kids. You did your bit to save goa. It's now or never."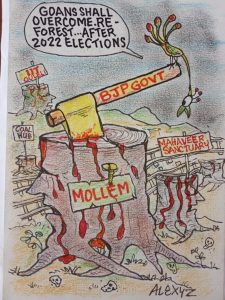 A large number of people have come out to support the 'Save Mollem' campaign including prominent names, actor Randeep Hooda and Congress leader Jairam Ramesh being one of them.
It may be recalled that protests against the three proposed mega projects by the government in and around Bhagwan Mahaveer Wildlife Sanctuary and Mollem National Park have gained momentum and are being backed by large number of people across the country.
Pic source: Tweeted by @savemollemgoa