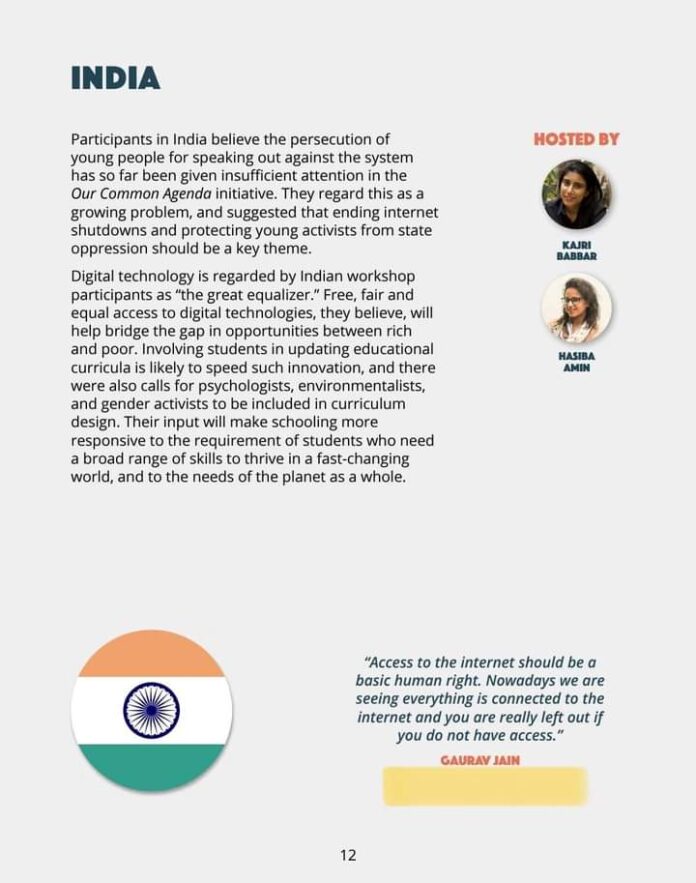 Panaji : Goa origin congress politician Hasiba Amin along with Kajri Babbar hosted National Conversations in India on behalf of UN Foundation for UN Sec General's report – "Our Common Agenda"
The United Nations Foundation organized National Conversations across 10 countries in May – June this year, as part of the United Nations Secretary General's "Our Common Agenda" initiative. Two hundred young people participated in these rich and intensive conversations. Three of these 21 conversations were held in India, and were arranged and hosted by Kajri Babbar from Mumbai & Hasiba Amin from Goa.
In commemorating the 75th anniversary of the United Nations, the General Assembly invited the Secretary-General to make recommendations to "advance our common agenda and to respond to current and future challenges." In response, the Secretary-General has launched a process to put together a report by September 2021. This is also being viewed as an opportunity to chart a new course for the international system as we look to post COVID19 world.
In line with the Secretary-General's call to promote solidarity with young people, a "Young Thinkers'' track, along with three other tracks have been constituted. This tracks will feed into the Secretary-General's "Our Common Agenda" report and also culminate in a standalone youth report on "Our Future Agenda". It will be bold, innovative and, crucially, representative of young people from all backgrounds.
Hasiba Amin (a young politician from Goa) and Kajri Babbar (a feminist filmmaker based in UK and India) were selected to lead the event in India.They were among 17 young people from across the world selected to conduct these conversations. The hosts were first invited to attend training sessions  with Inés Yabar, a specialist  from Restless Development and  David Steven, Senior Fellow at the UN Foundation.
Overall, three National Conversations were held in India with 12 young participants in each coming from various backgrounds and states in India.
The key issues and solutions that came out in the conversation is that India needs to have free, fair and equal access to digital technologies. The Young Indians suggested that the persecution of young people for speaking out against the system has so far been given insufficient attention in the Our Common Agenda initiative. They regarded this as a growing problem, and suggested that ending internet shutdowns and protecting young activists from state oppression should be a key theme.
All the 17 hosts, Next Gen Fellows and few selected participants were invited for a dialogue with the UN Deputy Secretary- General H.E. Amina Mohammed and Jayathma Wickramanayake, the UN youth Envoy.