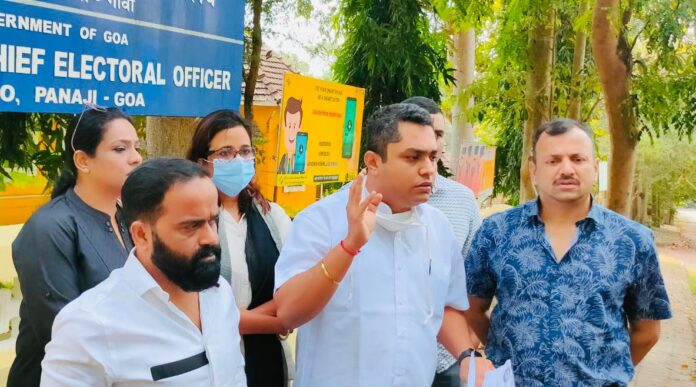 Panaji: Alleging that BJP is accumulating huge amounts through means of selling Government jobs, Goa Forward Party has on Tuesday sought intervention of Chief Election Commissioner in the Recruitment Scam issue for free and fair election.
GFP Gen Secretary (Org) Durgadas Kamat, along with Vice President Dr. Renuka Da Silva, Adv. Ashma Bi, Jagdish Bhobe, Deepak Kalangutkar and Runal Kerkar submitted the memorandum to CEC.
Memorandum has mentioned that BJP's Panaji MLA Babush Monserrate has leveled serious allegations against BJP government saying for one post 20 to 35 lakhs are demanded from candidates. Hence, it is pertinent that CEC should intervene into this matter for a free and fair ensuing assembly election.
Durgadas Kamat speaking to media persons said that GFP President Vijai Sardesai had raised this issue in August and had appealed youths not to fall prey to BJP's job scam. "Today also many candidates contacted us saying money is being demanded for jobs. Even a BJP MLA has told me how jobs are sold. This is a very serious matter and hence EC should intervene in it." He said.
He demanded this manipulative process of recruitment should be scrapped and recruitment should be done from Goa Staff Selection Commission.
He also said that GFP will approach the High Court in this matter. "BJP only understands the language of judiciary." He said.
"Not only in PWD and Police, but job scams are taking place in all departments. Despite this Chief Minister Pramod Sawant is trying to shy away by saying 'no comments'. This shows the irresponsible approach of the CM." He said.
Vice President Dr. Renuka Da Silva, Jagdish Bhobe and Deepak Kalangutkar also attacked the BJP government over this issue saying the saffron party is accumulating funds to spend during election.