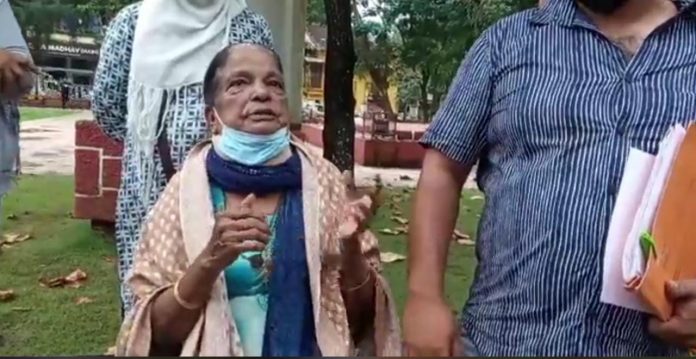 Panaji: For 80-year-old Francisca Pereira her fight to get back the shelter which was snatched by neighbours after connaiving with the Chodan-Madel Panchayat is far from over even though Old Goa Police on Wednesday registered FIR against the accused.
Pereira has been left homeless and has continued fighting tirelessly for last eight years to get back her home at Chorao Island, which was illegally taken over by neighbours after forging the tax records at the panchayat.
It was the first victory for the lady when she managed to get FIR registered against the accused involving Chorao panchayat officials at Old Goa police station. The breakthrough came after NGO Hope Foundation and its director Inacio Domnick Pereira took up the issue aggressively demanding justice to the lady.
Addressing an impromptu press conference at Azad Maidan in Panaji on Wednesday, the 80-year old lady recalled her eight year -long struggle. From filing complaint in the year 2012 to the actual filing of FIR, the battle is prolonged but she wants to fight it out till she gets into her home.
Pereira of Hope Foundation said that the police have been asking some irrelevant documents from her in order to shield corrupt panchayat officers. "But the intervention of some senior officials worked and finally the FIR was filed," he said.
He added that the NGO will stand with the lady till she gets her rightful shelter back.