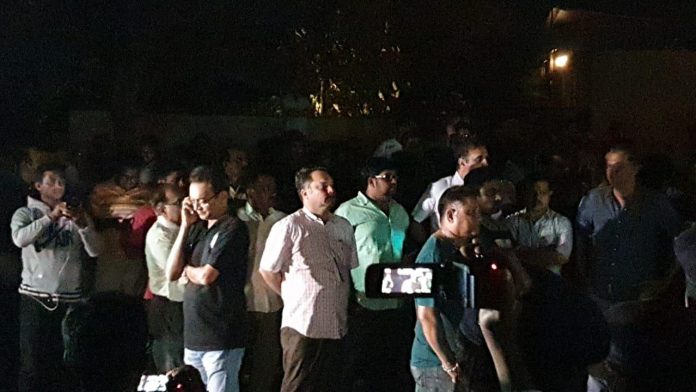 Dona Paula: Emotions run high as crowd began swelling outside the private residence of Chief Minister Manohar Parrikar.
As the news of his death spread like wildfire, several people started gathering there. Some of them could not stop their tears. The emotional scenes were witnessed outside his residence.
The political figures including Union AYUSH minister Shripad Naik who is also North Goa Member of Parliament and Speaker of Legislative Assembly Dr Pramod Sawant were the first one to arrive at the scene.
South Goa Member of parliament and BJP MP Narendra Sawaikar too joined the family members of Parrikar later.
Sensing that the crowd outside his private residence was swelling, police increased their presence and cordoned the area to ensure that no one enters the building where Parrikar's apartment is located.
Chief Minister's office around 7.30 p.m. released tweet informing about his extremely critical health condition.
"Chief Minister @manoharparrikar's health condition is extremely critical. Doctors are trying their best," CMO tweeted.
President of India Ram Nath Kovind later tweeted breaking the news about demise of Parrikar. "Extremely sorry to hear of the passing of Shri Manohar Parrikar , chief minister of Goa, after an illness borne with fortitude and dignity. An epitome of integrity and dedication in public life, his service to the people of Goa and India will not be forgotten," President tweeted from his official handle.
BJP National President Amit Shah tweeted "Manohar Parrikar ji's demise is extremely painful. In him, the nation has lost a true patriot who selflessly dedicated his entire life to the country and ideology. Parrikar ji's commitment towards his people and duties was exemplary."