More than 480 students participated in a Career guidance seminar held by Captain Venzy Viegas, MLA of Benaulim constituency, in collaboration with Careers 360 and Bodhbridge on Friday.
The students from Holy Cross Institute, Cavelossim, Sacred Heart of Jesus High School, Carmona, St. Pius X High School, Orlim, St. Mary's High School, Varca, St. Aloysius High School, Benaulim, Auxilium High School, Benaulim and Infant Jesus High School, Colva registered for the Psychometric test during the Career guidance seminar.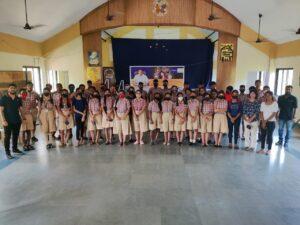 Speaking about the seminar Viegas said, "On April 26th, tenth grade students completed their SSC examination. However, 99 percent of students are having trouble deciding on a career choice. To assist these students in making decisions about their futures, the AAP scheduled counselling seminar for them in Benaulim constituency".
"Following the completion of their tenth grade, each student chooses a career path. Their destiny will be determined by the steps they take after tenth grade. To have a good career, one must first evaluate their strengths and areas of interest before deciding which path to choose. Thus, counseling students after tenth grade is critical", he added.
Viegas further said, "Today's colleges provide a wide range of courses and therefore students are unsure which course to enrol in. Besides from traditional courses, a tenth passed student today has a plethora of options, including programming, catering, app development and so on. As a result, while picking a career is difficult for students, good counselling and assessment of the students' abilities and interests will lead to long-term success".