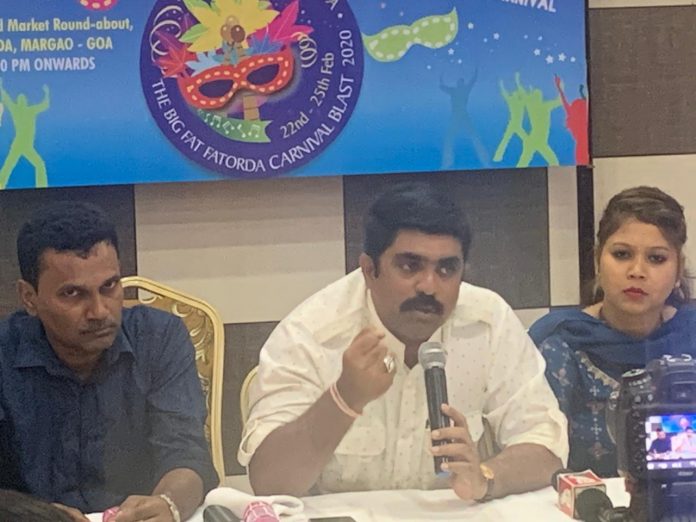 Fatorda: Continuing its 15-year-old tradition, We For Fatorda intends to make this year's Carnival, a most memorable one for the people of Fatorda.
'We For Fatorda', is an initiative of Vijai Sardesai. The festival will be held from February 22 to 25 next to Old Market Circle.
Sardesai said that the carnival celebration will have top international collective band and other top Goan bands like the Forefront, Ragas to Riches, Alcatrazz, Lynx, Pure Magic, Runks, Archies and Uzo.
Giving celebrations a bollywood touch the stars including Rohit Roy (Shootout at Lokhandwala fame), Salil Ankola (International cricketer and film star), Shahwar Ali (Salman Khan's co-star in upcoming film 'Radhe), Bhumicka Singh (Aap Ki Khatir), Dalip Tahil (starring in more than 100 bollywood films), Naved Jaffery (Boogie woogie fame), Niharica Kumari Raizada (Total Dhamal, Sooryavanshi) and Sakshi Kalani (web series star) would also be making their presence during the celebrations.
A food court featuring ten of the five star hotels will be highlight at the venue offering five star dishes at absolutely affordable local rates along with other stalls hosted by Self Help Groups and other leading restaurants.
Sardesai said that We For Fatorda enjoys the distinction of having brought the Carnival back to the streets, according to the festival its traditional glory and festive spirit.
This year too, we have planned to hold the event at its rightful place, the Opinion Poll Square, opposite Ravindra Bhavan Margao.
"But the local authorities, apparently under orders from their superiors, have denied us permission, an obvious attempt at political vendetta," he said.
" It is especially glaring that we have been denied permission while the Panjim street dance has been allowed and given the go-ahead. Though this is an insult to the sentiments of citizen of South Goa, particularly Fatorda and Margao, we will not be cowed down and have decided to organize 'The Big Fat Fatorda Carnival Blast 2020'next to Old Market Circle, without compromising on even the smallest detail.