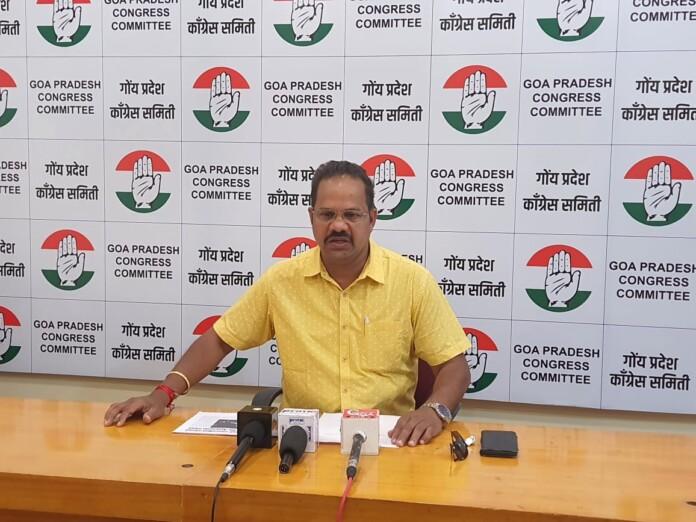 Panaji: Questioning the BJP-led State Government over the haste in which it is planning to inaugurate projects like the Mopa Airport, Congress Party General Secretary Vijay Bhike charged that this is being done to cover up corruption.
Addressing reporters at Congress House in Panaji on Tuesday, Bhike said that it appears there could be a leadership change in the state government and hence the chief minister is in a hurry to inaugurate many projects during the scheduled visit of Prime Minister Narendra Modi to Goa on Sunday.
"Corruption has increased in the name of development. We can see how Manohar Parrikar had inaugurated Atal Setu and what is the state of the bridge today. 2 years have passed, the bridge is riddled with potholes, there is constant maintenance work being carried out,
They want to hide corruption through such inaugurations. The same can be said of Mopa Airport. The necessary infrastructure is not built at Mopa, it will take another 1 and half year for this to be completed. Why are they in a hurry to inaugurate? Is the CM worried about a leadership change? Just like Atal Setu, the same thing can happen with Mopa airport. The runway can be affected, something could happen aircrafts takes off. The government is not serious about people's lives," he said.
Bhike also said that the Prime Minister should address issues that concern the people.
"Modi should listen to the 'mann ki baat' of the people and speak on important Issues. Don't hoodwink us in the name of development. Under Panaji Smart City, not even 2% work has been undertaken. Only casinos have benefitted, while the working class is affected. Garbage issue remains unresolved. The Panaji feast fair is set to be cancelled. The government talks of Atmanirbar Bharat. Many people eke out a living out of such fairs. Instead. Modi should be shown such fairs and trying to divert attention. Congress will be strong and we will continue to raise issues," he said.
Bhike also said that 90% of the current ministers and MLAs in the BJP government are unhappy.
"Our sources have told us there could be a leadership change or there could be a split among the MLAs. They are waiting for the 2024 elections. BJP MLAs could split anytime. Some of the MLAs who have joined BJP still have a soft corner for Congress," Bhike said.