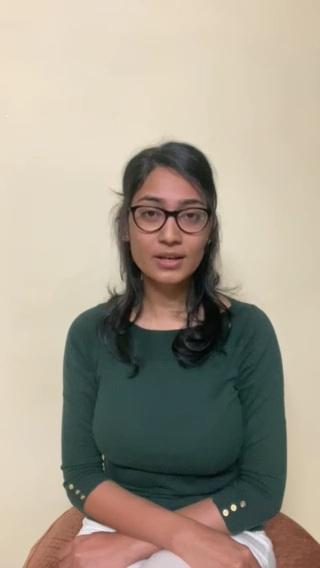 Chief Minister, Dr. Pramod Sawant awarded the Chief Minister's Fellowship to Amanda Menezes for her Doctoral Studies
Chief Minister's Fellowship Programme was launched by the Hon'ble Chief Minister, Dr Pramod Sawant during the year 2020-21, to aid prolific students of promising calibre, with an aim of harnessing the talents of young professionals from diverse academic backgrounds providing them regular stipend for the research work.
The Directorate of Planning and Statistics has recommended extending the Chief Minister Fellowship Programme to Ms. Amanda Menezes from Taleigao, awarding her performance and hard work which was in compliance with the requirement of the scheme.
Ms. Amanda Menezes has accomplished greater heights in her academic career that can be attributed to her being a fellow under CMFP. She has been selected as a PhD student in Medical Chemistry at the University of Toledo, Ohio, USA.
As per the scheme, Fellows are required to complete the Fellowship Programme of duration of one year. However, Ms. Amanda immediately after completing her report during an eight month period, got selected for a PhD Programme at the University of TOLEDO, USA. And Ms. Amanda could not complete one year of the duration of Fellowship.
The DPSE than recommended for refund of Fellowship amount from Ms. Amanda since she had to leave the Fellowship before completion of one year. Keeping in view the dedicated efforts and quality of research work done and considering her financial difficulties in refunding the whole amount of the fellowship by Ms. Amanda, the Hon'ble Chief Minister waived off the amount to be refunded by Ms. Amanda.
The Hon'ble Chief Minister under the CMFP has facilitated the candidate offering her the opportunity to pursue her Doctoral Studies. The Fellowship has enabled Ms. Amanda Menezes to complete her education without financial restraint. Her commitment toward research work fit the parameters of the scheme making her a deserving candidate for its benefits. Through the Chief Minister's Fellowship Programme, Goa Government has aimed at restoring youthful energy and ensuring harmony between research studies and its expenditure.
The scheme, designed to provide valuable experience to youth interested in the multifaceted areas of research, is fostering the development of the state. It may be noted that 7 Fellows are selected for the Fellowship under CMFP for the year 2022-23.