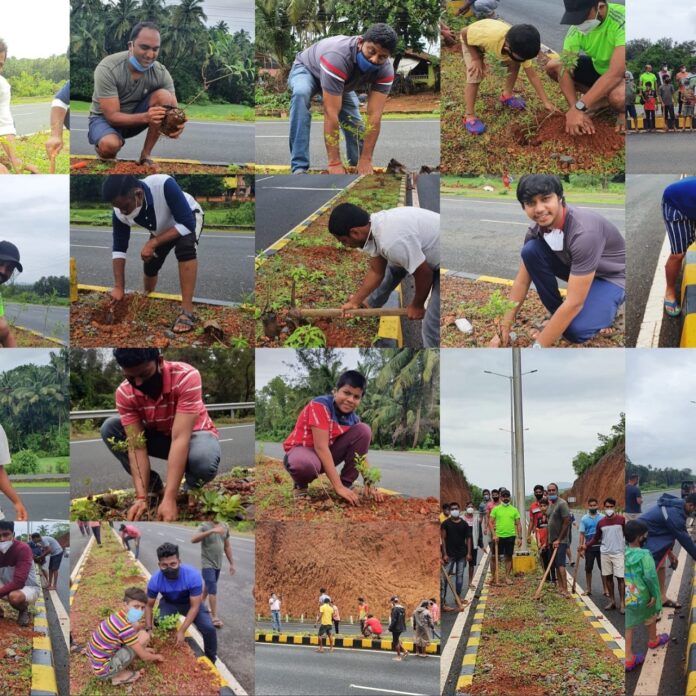 Canacona: Youth from Akhil Goa Kshatriya Pagi Community alongwith youth of other communities from Canacona planted 580 ornamental plants on the dividers of Manohar Parrikar By-Pass road leading from char-rasta to mashem, Canacona.
This initiative was created by Dhuri family from Rajbag, Tarir.
Taking lead from this initiative around 50 youth from canacona planted ornamental plants saplings on the Manohar Parrikar By-Pass road.
These youths have also sworn to nurture and protect these plants in near future.
"We want to make this by-pass as beautiful as the character of late Manohar Parrikar" said Adv. Anoop Kudtarkar, who spearheaded this drive.
Many prominent personalities from canacona took part in this activity. Shri. Ashok Dhuri, president of Akhil Goa Kshatriya Pagi samaj, Shri. Sarvanand Kankonkar Secretary of Akhil Goa Kshatriya Pagi samaj, Kundan Dhuri, Pankaj Namshikar, Sapna Namshikar, Sanju Pagi, Vaibhav Namshikar, Luca Pagui, Uddesh Namshikar, Gaurav Pagi, Jatan Pagi, Jai Pagi and many others participated in the drive.