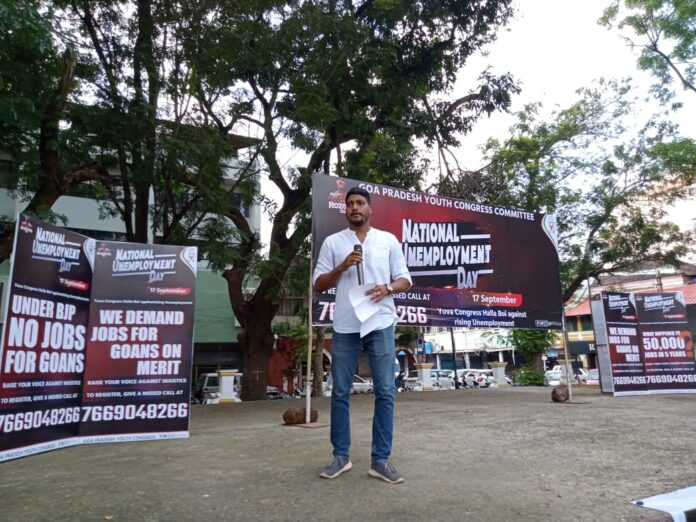 Panaji : The Indian Youth Congress (IYC) Goa observed National Unemployment day at Azad maidan, Panaji on the Prime Minister Narendra Modi's birthday. 
Present for the occasion were, IYC Goa president Varad Mardolkar, Goa Pradesh Congress Committee (GPCC) President Girish Chodankar, working president Alex Sequeira, CLP leader Digambar Kamat, Rudolf Fernandes, Samil Volvoikar among other congress leaders.
IYC launched a movement against unemployment asking youth to take part in the movement by giving a missed call on phone no. 7669048266. "On behalf of the unemployed youth of Goa which is 35 percent of Goan population, I demand employment from PM Modi," Said Chodankar.

"When BJP formed government at the centre they promised two crore jobs per year as of today they owe Indians fourteen crore jobs but in reality we did not even receive fourteen lakh jobs," lamented Mardolakar

Mardolkar recalled that even the Goa Government had promised fifty thousand jobs but even this promise remains unfulfilled.
Samil Volvoikar slammed  the Government of Goa alleging that the BJP government is turning a blind eye towards unemployment , "It looks like they are not serious about solving employment issues, Every time election nears, Govt assures employment, this is nothing but a carrot and stick approach," he said.