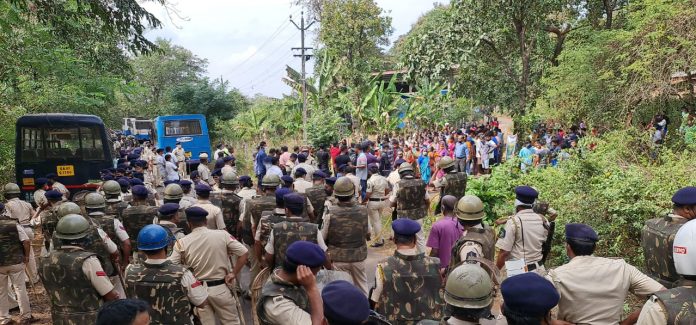 Panaji : Gawada Kunbi Velip and Dhangar (Gakuved) Federation, Adivasi Sanghatana Quepem, The Scheduled Tribe Association Sao Jose De Areal and Goenchya Kul Mundkaracho avaaz has condemned the act by Goa Govt and police who resorted to lathi charge the villagers of shel-Melaulim at protest against the IIT. The organisations reckoned that the villagers were peacefully protesting and the police have first incited the violence by walking over the people who were peacefully protesting by laying on the land.
The organisations have asked, "who gave permission to lathi charge the people at Melaulim?" They believe the police along with government of Goa have abused their power. The organisations also slammed Health Minister Vishwajeet Rane who they allege is eyeing the land of Murmune and surrounding villages.
The organisations have also condemned the CMs statement wherein he said that an FIR has been lodged inder IPC against villagers of Melaulim for attempt to murder, half murder etc. "We ask the CM and Health Minister to immediately resign from their post," said the press note.
The organisations have stood in solidarity with Melaulim villagers. "This is an attack on the entire Scheduled Tribe community and vilagers who were peacefully living in Melaulim village since ages. If the government doesn't back off from the village we will organise protests accross the state and there will be a law and order situation," warned the organisations.