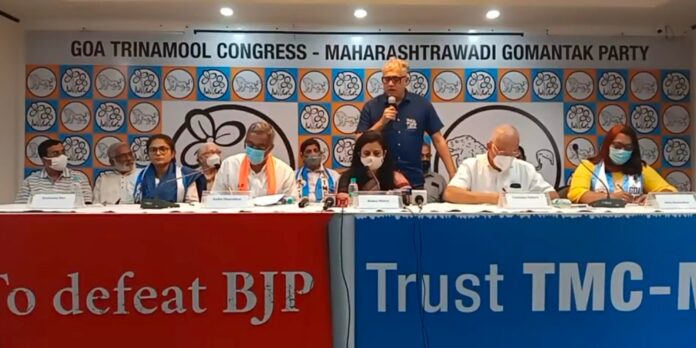 Panaji: In its last press conference for the current campaign in Goa, Trinamool Congress Party-Maharashtrawadi Gomantak Party appealed the people to vote for them on February 14 to fight back BJP.
TMC MP Mahua Moitra said on Saturday that TMC and MGP are on the ground with the people of Goa. " In order to defeat the BJP, you have to trust the TMC and MGP. Essentially that is binding us together," she said.
Moitra said that the TMC is committed to remove the BJP "not only from the states which they are controlling but also in 2024 from India."
She said that the alliance partners are fighting to oust the BJP. We are only political player who is absolutely focused in defeating the BJP. We are not interested in any other side deals, all we want is to get BJP out of Goa," she said.
Referring to congress and AAP, she said "we have seen lot of people signing pledges and taking oath."
"That is amusing us, Given the history of Goa and give the fact that anti defection law allows two third of the party to go across, it is far more important for us to come out and show people that we are committed, than signing the affidavit," she said.
Moitra said that the big picture in Goa is environmental pollution and also corruption.
"The big issue is corruption that citizen has to face. Unemployment is absolutely terrible. Health care is non existence," she said.