Panaji: Goa Pradesh Congress Committee's Working President Aleixo Sequeira on Wednesday ruled out the possibility of rebellion within the party, after candidates are announced for upcoming Goa Legislative Assembly election.
Sequeira told Hub Encounter that the party has been expanding in all the 40 Assembly constituencies of the state and people who have faith in its ideology are joining the political outfit.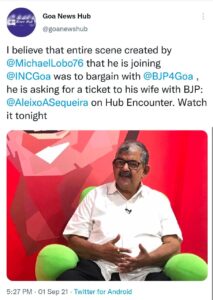 "I don't think there will be any rebellion in the party after candidates are announced. One odd fellow may leave, but rest will stay with the party," he said responding to a question about emergence of too many aspirants in each of the Assembly constituency of Goa.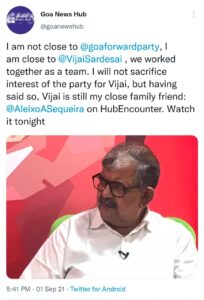 "Many people, before contesting the election, feels that it is easy to fight a poll. But it is not so," said the former State Power Minister, who was nominated as Working President of the party unit in Goa, this week.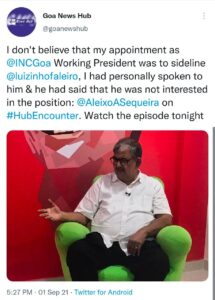 Sequeira, who is known to be close to Goa Forward Party President Vijai Sardesai, said that the decision on alliance with like-minded parties will be taken by the High Command, after conducting detailed survey in each of the constituency.
"Vijai Sardesai is my friend as we have worked together in Congress. Having said so, as far as alliance is concerned, Delhi will decide. I will not sacrifice interest of party for Vijai," Sequeira said.