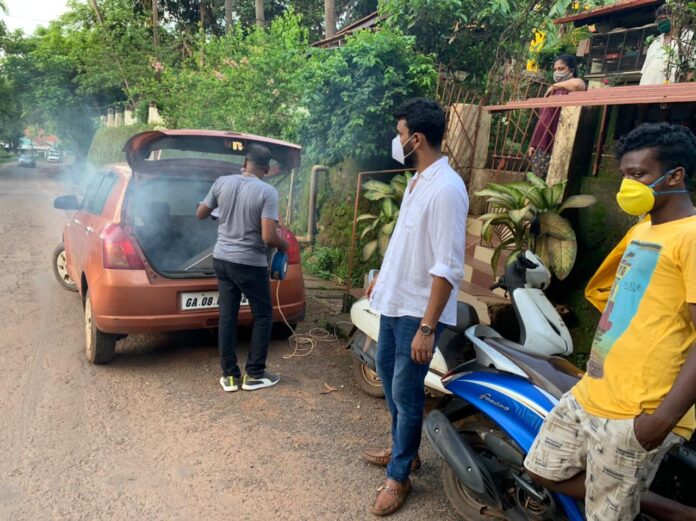 In the midst of this difficult phase of uncertainty, young passionate people around Goa have come to the rescue. To take one instance, Gajanan Tilve of Siolim, who we see as an emerging youth icon of Goa deserves all the attention.

Gajanan Tilve has been in the political scenario in the last few years, thanks to his leadership skills and a strong perspective on issues pertaining to the youth. Most of us know him as the Ex. General Secretary of Bharatiya Janata Yuva Morcha (BJYM), but he has left no stone unturned to display consistency with his honest work for his village.
Currently, Gajanan Tilve is the President of Youth United, Siolim. A group of young people of Siolim constituency dedicated to working for the betterment of people residing in the village. In the times of the Coronavirus pandemic, their mission was to reach each and every person who needed their support. The team has actively and selflessly worked in the best interest of people by providing food, medicines to Covid infected patients and sanitizing their homes. Youth United of Siolim has served more than 54 families and has sanitized around 137 houses in the constituency. As an addition to this work, Gajanan Tilve started an emergency Covid service vehicle that helped more than a hundred patients to reach nearby hospitals at the right time.

It all begins with a tiny spark that lights up the fire of passion. Today, Gajanan Tilve represents our youth and aspires each one of them to participate in youth-centric issues. It is his unique personality that makes him a motivational force on the ground level as well as on various social media platforms. As we look ahead at the future, we wish to see youth like Gajanan Tilve taking an early plunge in the world of politics and making a difference.