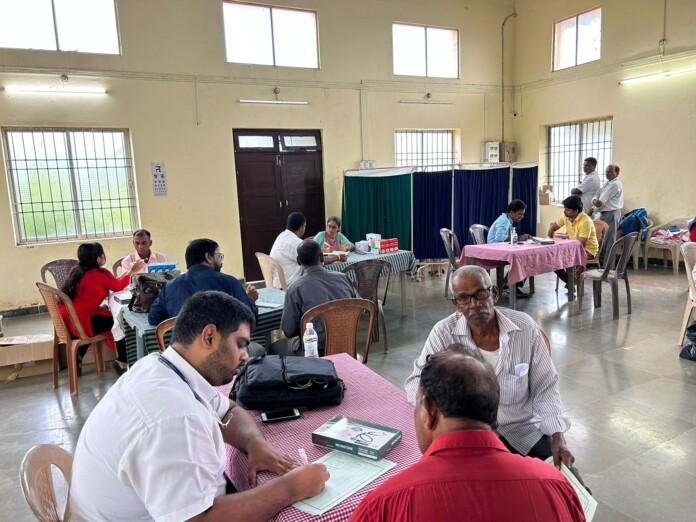 Panaji: A super speciality medical camp was organised by Indian Medical Association Bicholim in association with Community Health Centre, Bicholim and Primary Health Centre, Mayem and Narve Panchayat.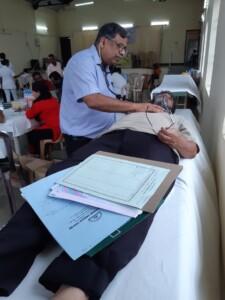 The camp was inaugurated on Sunday at Panchayat Ghar Narvel by MLA Premendra Shet in presence of Health officer of the community health centre Bicholim Dr Medha Salkar, Past President of IMA Goa Dr Shekhar Salkar, Sarpanch Sandesh Parsekar and panch members Tukaram Gaude and Daya Karbotkar.
Shet appealed people to take advantage of such camps where the doctors and consultants arrive with the latest technology to treat patients.
He said that such camps also cause awareness about Health amongst the people.
In his address, Dr Shekhar Salkar said that the early diagnocis helps in saving lives, saving organ and eventually saving money.
He said that the procedures like operations, radiations and some chemotherapy are conducted free-of-cost on patients in private hospitals under DDSSY scheme.
While appealing people to remain healthy and eat lot of vegetables, Dr Salkar adviced people to stay away from Alcohol and consumption of Tobacco.

The doctors including Dr Medha Salkar, Dr Gaurish Palav (Pulmonologist), Dr Kashish Patnekar (Gynaecologist), Dr Anoush Sardesai, Dr Uma Desai (Health Officer PHC Mayem), brother Mr Sinari and other staff of CHC Bicholim and PHC Mayem were present.
Sarpanch Parsekar welcomed everyone while panch member Tukaram Gaude gave vote of thanks.
DATA
Total registration =74
ECG = 41
Pap smear =18
Thermalytix AI Breast cancer screening = 35
Cataract cases = 09
Glaucoma suspect = 02
Refrective errors- 22.