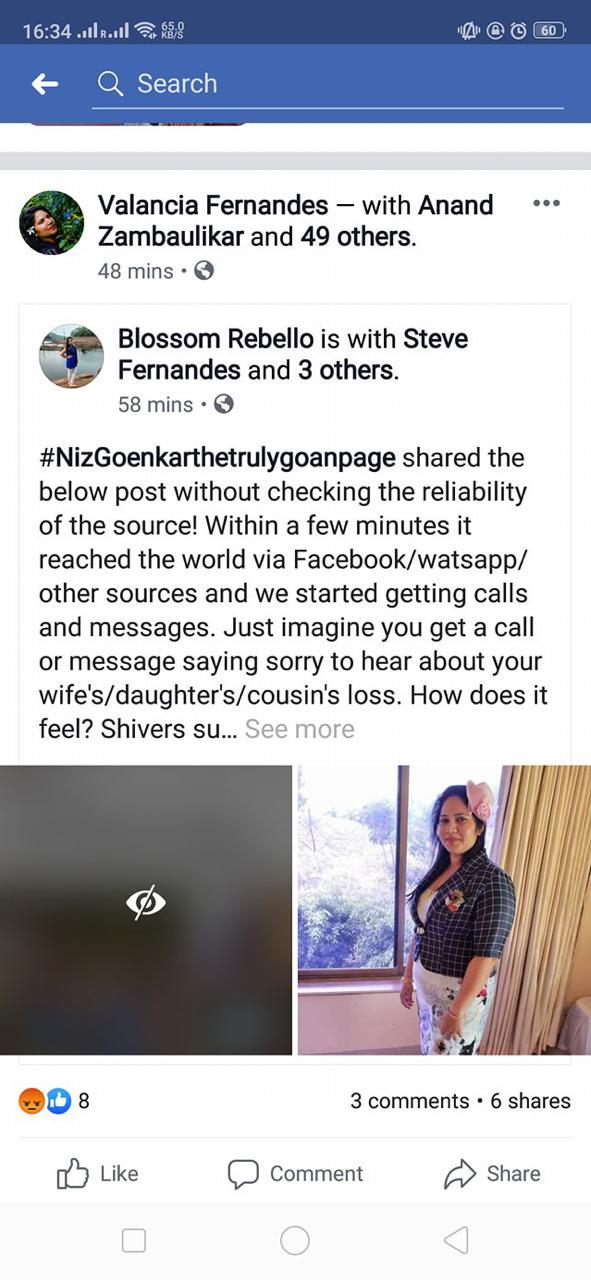 Margao: Goa woke up to horrible news about death of a 30-year-old girl at Rivona on Friday. By the end of the day, one person was arrested in connection with the murder.
But during the day, one girl had to face several uncomfortable moments was Valancia Fernandes from Curchorem.
While deceased Valancia Fernandes is from Curtorim, another girl with the same name lives at Curchorem. Going by her Facebook account, she is married.
Some whatsapp over enthusiasts in a bid to know how dead Valancia was looking like, randomly downloaded picture of another Valancia and forwarded it to everyone. And they again forwarded to their friends. The picture became viral in no time.
#NizGoenkarthetrulygoanpage also uploaded the picture on their Facebook page.
It is understood that Valancia from Curchorem received several phone calls.
One of the friend of Curchorem's Valencia posted on FB:
#NizGoenkarthetrulygoanpage shared the below post without checking the reliability of the source! Within a few minutes it reached the world via Facebook/watsapp/other sources and we started getting calls and messages. Just imagine you get a call or message saying sorry to hear about your wife's/daughter's/cousin's loss. How does it feel? Shivers surround you and you don't know how to react! This is exactly what we faced a few hours ago.
After filing a complaint and after contacting the admin of the page the post has been edited and the picture has been removed. But that doesn't solve the case. The pictures are still being circulated.
My request to the admins of the page like Niz goemkar with a huge fan following of over 20k to monitor the posts and spend time monitoring every comment if you have got into creating pages for some likes and comments! Editing captions will not solve the problem. You guys should have enough responsibility of reposting and apologising for the wrong facts shared on your page which is still not done even after more than 2 hours and causing such nuisance around!
Let the police do its job and let media spread the news after checking the authenticity of any news and don't just spread posts for some cheap comments and likes.
KNOW ABOUT THE CASE
https://dev.goanewshub.com/one-arrested-in-connection-with-valencia-fernandes-murder-case-role-of-more-probed/