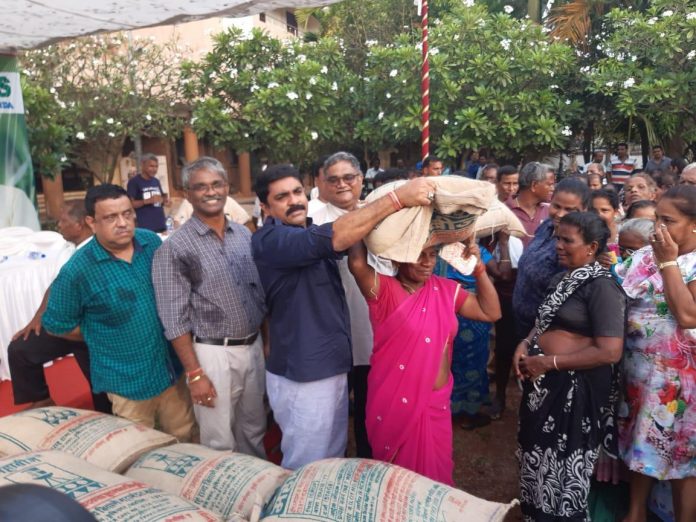 At the annual distribution of agricultural inputs by Vijai Sardesai's We for Fatorda to the farmers of Fatorda constituency has this year decided to go completely organic by cultivating paddy without using any chemical fertilizers. Unlike the previous years, no fertilizers have been distributed by We for Fatorda this year.
"After more than a decade of providing free seeds, fertilizers, transplantation and harvesting by We for Fatorda, we see almost all agricultural land becoming cultivated from huge tracts of fallow land as seen before" said Deputy Chief Minister and Agriculture Minister Vijai Sardesai.
"With special emphasis on Organic farming, We for Fatorda will no longer provide chemical fertilizers from this year. Instead Organic inputs will be provided free and all community farming hubs will be converted to organic farming clusters under the PKVY Scheme", said Sardesai.
Fatorda has a progressive farmer community who have always been guided by our local MLA who also happens to be an agriculture graduate and has been guiding us with technical expertise over the past decade to improve crop quality and increase profitability thus making this dying profession more lucrative and viable, said a local farmer attending the function. For the past ten years we have been supported by We for Fatorda and have decided to go organic because quality of produce is better and product fetches a much higher price, he added.
Sardesai further stated that by 2020 the entire agrarian activity in Fatorda will be fully organic and all the registered farmer clubs/groups will be accorded Community Farming status.
After this kharif season, a procurement centre under Goa State Horticulture Corporation Ltd. will be set up especially for Fatorda which will provide safe organic food to Goans promised Sardesai.