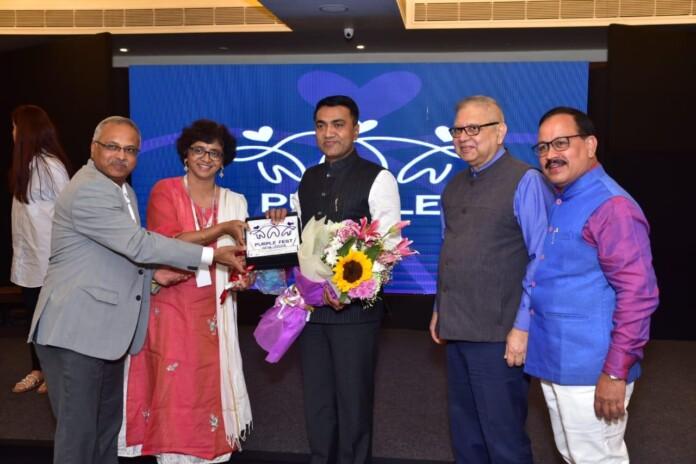 Panjim: Purple Fest 2023, Celebrating Diversity: The second day of Purple Fest was a spectacle of beauty and wonder as the day kicked off with Zumba which warmed up Purple Fest attendees, setting the stage for an unforgettable experience.
Here are the Highlights of various other events that took place on the second day of the Fest.
Blind Car Rally, the first-ever accessible car rally, featuring visually impaired individuals as navigators and braille maps as their guides, making it a historic event was held. Saturday, sighted individuals served as drivers in this innovative exercise that displayed the true meaning of interdependence. The Blind Car Rally was flagged off by the Minister of Social Welfare, Subhash Phal Dessai and State Commissioner of Persons with Disabilities, Guruprasad Pawaskar. Television actress, Pooja Bedi was the special guest
A Cultural programme by children, and Persons with Disability from various schools, including Shree Kamaleshwar High School, Pethechawada, Goa, performed the Goan folkdance Fugdi with enthusiasm. Students of New Dawn Ashadeep Special School performed a Marathi folk dance, and the Gujarati Samaj Special School, Margao put-up a stunning drama performance called 'Upkar'. There were many performances by students of other schools, and the audience included schools such as Lourdes Convent, Saligao, SFX, Mapusa, and Shree Ram Vidya Mandi
The National level ADIP camp was set up to assess persons with disabilities and provide them with aids and equipment at no cost. To promote their physical, social, psychological rehabilitation by reducing the effects of disabilities and enhancing their economic potential.
Purple Think Tank : Role of Government In inclusion of PWD's: Enable India collaborated with the government and organisations to implement models that include awareness sessions, infrastructure, training sessions to help in employment of persons with disabilities.
For Self Employment of PWD's opportunities available through self-employment were discussed in detail. Loan facilities to help start self employment were deliberated. An example of Kalakappa who started self employment by availing all the facilities for the disabled was shared so that others get an insight into how lives can change.
Performances as part of Purple Rain were held at the INOX Courtyard. A performance by Jyothi who is a singer with autism and Visual Impairment, Stand-up comedy performances by Abhay Kumar Sharma with Visual Impairment and a performance by the band 'Udaan' with Visual Impairment allowed the audiences to unwind and enjoy talent.
The Employment Convention began at Vivanta by Taj, Panjim in collaboration with GCCI as a part of the ongoing Purple Fest.
Purple Dialouge, Purple Bioscope, Purple Kaliedoscope, Cruise Ride and more were also part of the Day 2 activities at Purple Fest.
The three-day event, the first of its kind will have its Closing Ceremony on Sunday, January 8, 2023.