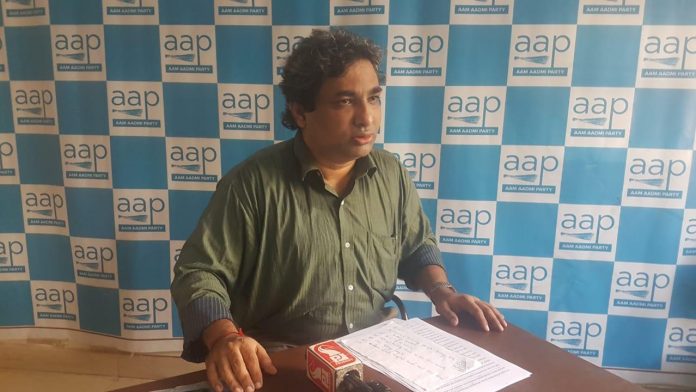 Panjim: Aam Aadmi Party has urged Govt to look into and implement the suggestions made by IMA for improving the overall covid treatment and its management in Goa.
"It looks like that because of lack of support from Govt, the IMA was forced to take this drastic step to stop providing medical consultation on phone to Home isolation patients. I don't think that Govt is serious to deal with the worsening Covid situation", said Rahul Mhambre.
We also pay our condolences to Dr Mario Godinho who lost his life battling Covid. It was total failure of logistics, non-availability of bed, inadequate oxygen supply and delay in treatment.
"A Corona Warrior like Dr. Godinho succumbed to the failures of the Govt. Entire Govt is responsible for his death, I ask CM Sawant to respond, this how you respect a Corona Warrior? Does the optics of showering petals and lighting diyas only matter to this Govt."
Without IMA's on phone medical assistance to home isolation patients, things will become worse. It is been told that Govt Medical officers has taken up the task of providing consultation to home isolation patients. Govt health staff is already under huge pressure, they are developing fatigue, when IMA was already doing this task, Medical officers could have been deployed to some other task or may be provided some days of rest. It seems like both Chief Minister and Health Minister are unmoved by the conditions and stress to the health workers.
Under AAP's continued pressure Health Minister VS Rane announced free Oximeter kits to home isolation patients almost 3 weeks back, not even a single kit delivered.
"IMA has also made 4 point suggestion which is exactly the same as 3T model proposed by AAP, all Goans demand truth, transparency and testing. We again reiterate that Govt must start publishing beds availability data, which we have been demanding for past 35 days," said Rahul Mhambre.
AAP would like to thank Dr. Samuel and the entire IMA team for their efforts. We will continue to seek your support and guidance in 'Goans against Corona' campaign on behalf of the people of Goa.