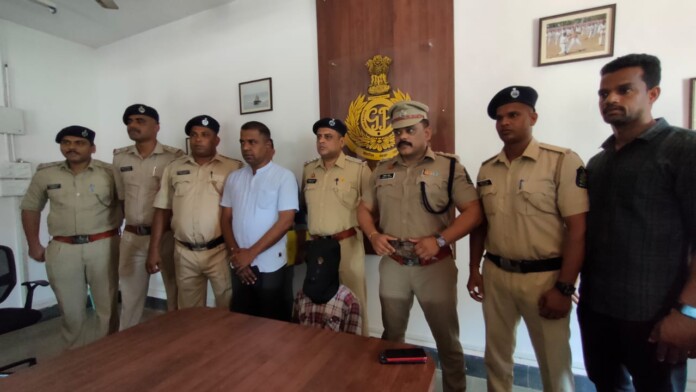 Mapuca Police get breakthrough in murder case of Nepali National, one person arrested.
Mapusa Police have arrested one person in connection with murder of Nepali national.
As per reports on 15/04/2023 Mapusa PS had registered a Murder case when they found one Male person having slit throat fallen dead in the pool of blood in open field at Morod, Mapusa.
The police had registered FIR u/s 302 and investigation was taken up.
During the course of investigation police had used scientific team, Dog Squad, Sniffer Dogs & various other teams were formed to examine the CCTV footages in Mapusa area.
During the course of investigation Mapusa police obtained a CCTV footage opposite to the scene of crime wherein deceased Mr. Nabin BK N/o Nepal was seen with one persons at early morning of 15/04/2023 at about 03.00am. From the photographs obtained from the CCTV footage Mapusa Police caused massive man hunt and finally today i.e. on 17/04/2023 after 48hours of crime police finally arrested one Shri. Karan Mahadev Shinde age 19yrs R/o Guirim Mapusa. He was thoroughly interrogated and he has confessed his involvement in committing crime. Police successfully recovered the clothes of the accused person wore during the crime having blood stains and which are matching to the footage in a CCTV camera.
During the custodial interrogation accused informed that when he met the deceased in the early morning of 15/04/2023 they decided to drink more alcohol and went in the field and a sudden quarrel started between them wherein accused stabbed deceased with broken glass bottle on his neck.
The entire case was closely supervised by SP North Porvorim Shri, Nidhin Valsan IPS, SDPO Mapusa Shri Jivba G. Dalvi, PI Shri. Paresh Naik and the Team of Mapusa PS consisting of PSI Sunil Patil, PSI Viraj Korgaonkar, PSI Bablo Parab, Head Constable Sushant Chopdekar, Police Constable Prakash Polekar, Anand Rathod, Akshay Patil and Rajesh Kandolkar all of Mapusa Police Station.