Priol: More than 8,000 people joined Priol MLA Govind Gaude to start his election campaign in the constituency on Sunday, indicating his popularity amongst the masses.
Gaude began his campaign by offering prayers at Mahalsa Temple at Mardol.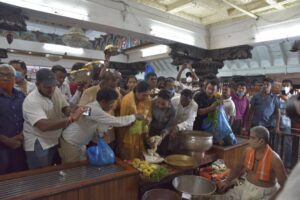 The Independent MLA received unprecedented support when crowd of around 8,000 people gathered for his first day of campaign. Gaude's popularity in the constituency is on the rise since 2017 when he got elected as an Independent candidate.
His supporters have coined a slogan "Priolkarani dharla jor, Govind Gaude once more" which reverberated during his campaign.
Gaude has not yet disclosed whether he would be going Independent or on BJP ticket in the constituency.
Considering his popularity, BJP has already offered him ticket in the constituency. BJP Goa President Sadanand Shet Tanavade had told reporters recently that the party has offered Gaude to join them and they are waiting for his response.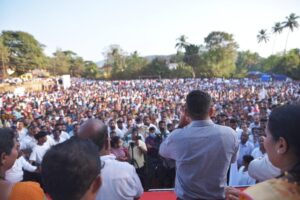 The Independent MLA, who is known for his leadership qualities, represents larger section of Bahujan Samaj in the state. Gaude has been able to bring about noticeable changes in his constituency while also ably handling the portfolios like Civil Supplies and Art and Culture.