Porvorim: The locals of Vaddem, Succoro witnessed Dhirio on Saturday morning right under the nose of local police.
Sources alleged that a high profile worker of BJP was behind organizing this event, due to which even police turned blind eye towards it.
Goanewshub has managed to source video of the dhirio, which were held in complete violation of Supreme Court order.
Several people were present for dhirio which were held at Vaddem, Succoro on Saturday at around 6 a.m.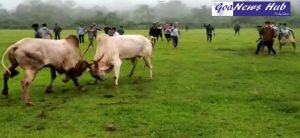 Locals claim that none of the police personnel came to stop it, clearly indicating the connivance with Porvorim police station.
We demand inquiry into the incident, which was organised in contempt of the SC.