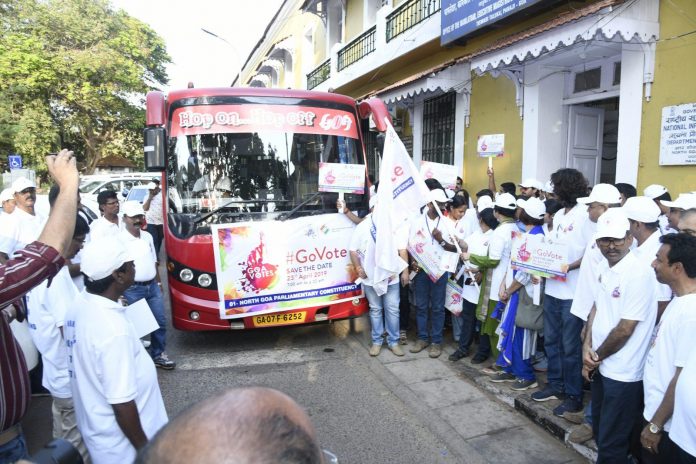 Panaji: The Office of District Election Officer, North Goa organized voter's awareness rally in Panaji city today which later culminated in a function at Miramar beach. Election Icons such as actress  Dr Meenakshi Martins, Musician Shri Mukesh Ghatwal, singer Ms Akshada Bandekar, Footballer Shri Bramhnand Shankhwalkar musician Shri Patrisan Andrade, actress Ms Antonette DSouza, film maker and actor Shri Siddharth Yajji, singer Smt Bindiya Vast Naik, actor and Goa's Charlie Chaplin Shri Spirit Fernandes, Ms Fularani Kinlekar, actor Shri Kevin D'Mello, musician Shri Dilip Vaze, actor Shri Pradeep Naik and poet,  lyricist Shri John Aguiar were present along with Nodal Officer SVEEP North Goa Dr Gervasio Mendes.
The Collector and District Election Officer Smt. R. Maneka IAS along with observers Smt. Sudipta Chatterjee and Smt Manisha Trighadia flagged off the rally from Collectors office.
At Miramar election awareness films by Shri Mukesh Ghatwal,  Ms Akhsada Bandekar, Miss Kanya Naik with Mast. Dhruv Gaonkar, Mast Amey Shetgaonkar and film produced by North Goa Collectors office were released. Also a skit written by Smt Antonette D' Souza and participated by Dr Minakshi Martins Shri Spirit Fernandes Shri Kevin DMello, Shri Patrisan Andrade, Smt Bindiya Vast Naik, Shri Siddharth Yajji, Shri John Aguiar was staged on the occasion.
Icons Shri Mukesh Ghatwal and Shri Patrisan Andrade regaled the audience with their live performances. All Icons finally gave message to the electors for 100% voting in the ensuing elections.
Others who were present on the occasion were Addl.Collectors, Shri Vikas Gaunekar and Shri Gopal Parsekar along with Mamlatdar  in Collectorate Shri Pravin Gawas, Nodal Officer SVEEP in CEO's office  Smt Isha Sawant and others.