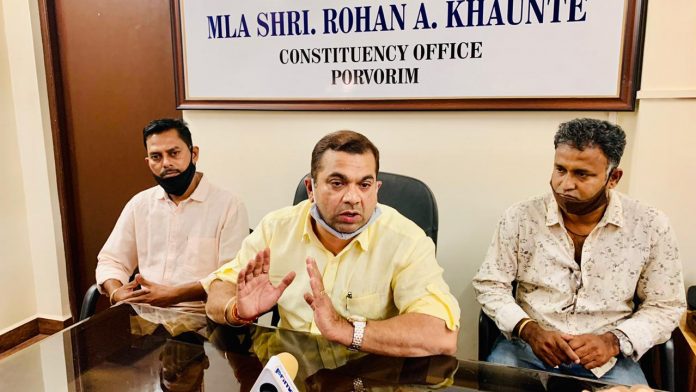 Porvorim: Independent MLA Rohan Khaunte on Wednesday criticized the Goa State Infrastructure Development Corporation (GSIDC) and the consultant for High Court building project for not conducting proper study before starting the project.
The new High Court building project is taking shape at Porvorim, which has blocked the traditional access to one of the ward in Penha de Franca panchayat.
Khaunte also pointed out that the consultant had not taken local panchayat into confidence besides they also did not do the study of impact on water supply to the local residents once the project becomes operational.
The MLA was talking to reporters after going through the presentation about the project given by consultant firm LKS Consultants Private Limited.
"After going through the presentation by the consultant, we realized that they have not done their Home work properly and GSIDC has blindly accepted all that the consultant has submitted," he said.
" The consultant should have spoken to local panchayat and considered aspects like density of the population, traffic circulation, water requirement and others," he said.
In a striking revelation, the MLA also noticed that there was a road being constructed parallel to the National Highway, which leads to a private plot.
"We are curious why GSIDC is interested about this access road which is going to the private plot. We will probe the matter," he said.
Khaunte demanded that the access road of 5 metres should be built to reach to the ward of Pehna de Franca panchayat so that two vehicles can move at any given time.
He also said that the project should not pull water from existing resources. State government can complete 15 MLD water treatment plant and than source water from there.
Khaunte also said that the locals should be taken into confidence while deciding on relocation of the Chapel, which is existing at the site.