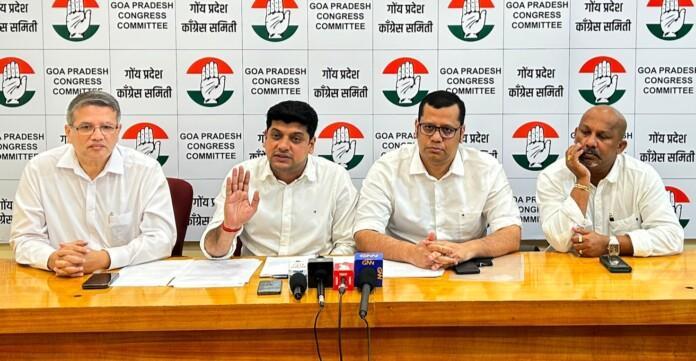 Panaji – Let Chief Minister Dr. Pramod Sawant take the lead in submitting resignations of all 40 MLA's to protect Interest of Goa on River Mhadei. Let him walk the talk on Mother Mhadei demanded Leader of Opposition Yuri Alemao.
Addressing a Press Conference at Congress House in the presence of Congress President Amit Patkar and two MLA's Altone D'Costa and Adv. Carlos Alvares Ferreira, Leader of Oppositon charged that BJP always compromised interest of Goa on Mhadei. Congress Leaders reacted on the approval given by the Central Government to Karnataka on Kalsa Bhandura Project.
I demand days of upcoming Assembly Session must be extended with a full day debate on Mhadei. Let Government table all documents pertaining to Mhadei in Assembly Yuri Alemao stated. I will talk to all Opposition MLA's also to take a collective stand on the issue, informed Yuri Alemao.
Congress President Amit Patkar pointed that former Chief Minister Late Manohar Parrikar was the first person who compromised with Karnataka on Mhadei by writing a letter to then BJP leader B S Yedurappa to give political advantage to BJP in Karnataka. Documets prove that BJP Central Leadership always gave an upper hand to Karnataka and local BJP leaders in Goa kept quiet, Amit Patkar said.
I demand that the eight defectors who were raising voice on Mhadei when in Congress should speak now. Why are they silent? questioned Quepem MLA Altone D'Costa. He said that Agriculture Minister Ravi Naik will now shelve his "Water Export Policy" and adopt " Water Import Policy".
We will explore the option to challenge the decision of the Central Government in the Court. Successive BJP Governments always celebrated on Mhadei. Former Water Resource Minister Vinod Palyekar was also responsible for the mess of Mhadei, stated Adv. Carlos Alavares Ferreira.
Congress Party will lead the protests taking along all Goans incase the Chief Minister fails to take pro-active and quick steps to bring a stay on the decision of the Central Government, informed all Congress Leaders.