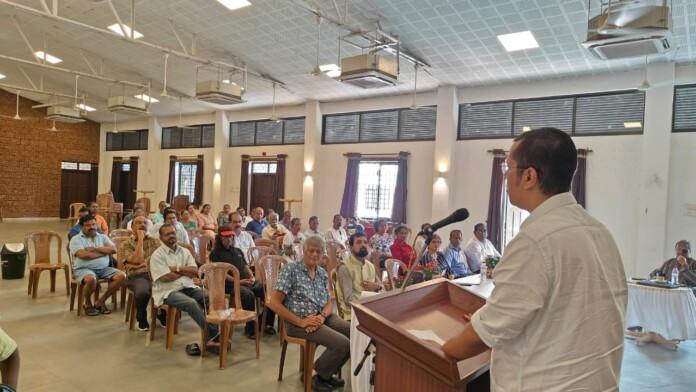 Margao – It is commendable work of Chandor-Cavorim Panchayat which has taken the initiative to discuss on the roadmap to develop our beautiful Chandor into a Heritage Village. Chandor-Cavorim will be the Model Panchayat to develop Chandor as "Heritage Village" stated Cuncolim MLA and Leader of Opposition Yuri Alemao.
He was speaking at the Seminar organised by Village Development Committee of Chandor-Cavorim Panchayat to prepare a Roadmap to develop Chandor as Heritage Village. Arch. Dean D'Cruz, Arch. Heta Pandit, Historian Prajal Sakhardande, Past and Present Panchayat Members and Residents of Chandor participated in the Seminar and gave valuable suggestions & ideas.
This Seminar is in keeping with the letter and spirit of Panchayat Raj wherein the villagers as the primary stakeholders should decide on what needs to be done and what needs to be avoided. My full appreciation to the Village Development Committee for making the beginning to prepare the Heritage Development Plan, Yuri Alemao said.
Today, in other parts of Goa, we find locals and villagers are mobilised to oppose their villages being declared as eco-sensitive. This happens when villagers are kept ignorant about benefits that accrue to local population. Wrong information, no information, Half-information is dished out to people whereby they take a track which may destroy their villages. We are fortunate and lucky that people of Chandor want their village to be declared as a Heritage location. I congratulate all of you for this positive thinking and your earnest desire to see that it happens, said Yuri Alemao.
I am delighted that experts are guiding the Village Panchayat and the people. I express my thanks and gratitude to Architect and heritage activist Heta Pandit, Architect Dean D'Cruz and Historian Prajal Sakhardande for volunteering to guide and provide inputs. Each one of you are passionate about Heritage Conservation and Preservation. I have no doubt your interaction is definitely fruitful, stated Yuri Alemao.
I also appreciate the villagers who have come forward and made concrete suggestions. Finally, what the Village Development Committee will present would be the people's plan. Being the people's plan, the implementation would be smooth and without conflicts, he said.
The crucial aspect is to harness the heritage for creating opportunities for youth and locals. We should market our heritage and come forward with sustainable economic initiatives to generate employment and income. It is only then, that heritage can be fostered and preserved, said Yuri Alemao.
There are also dangers that Chandor will face on being heritage location. Investors in land and heritage properties would eye Chandor. The threat is of losing our land and heritage assets to outsiders. The threat is also of reckless commercialisation in the name of tourism development. The Village Development Plan should consider these aspects seriously, said Yuri Alemao.
I assure you that I will take all your recommendations to the government for further action. At the same time, I want all of you to be on the guard. I hope you will understand my worry and predicament, said Yuri Alemao.