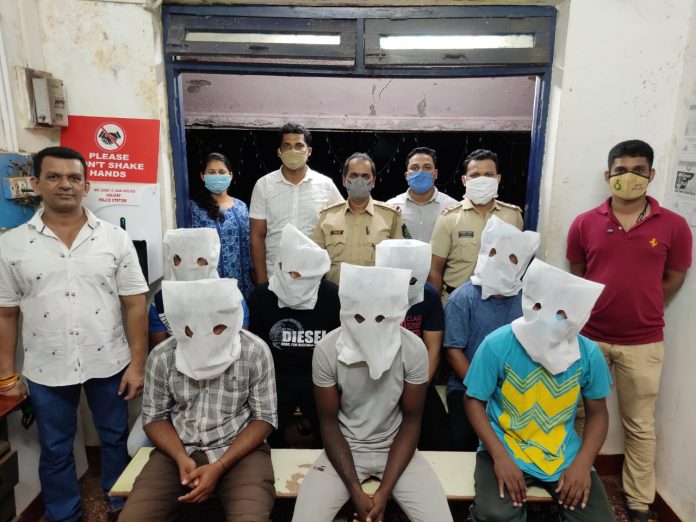 Calangute:  Calangute Police Station effected a major breakthrough in two snatching cases registered at Calangute Police Station recently. In the chain snatching case registered upon the written complaint  of one Shri Kiran Patil r/o Belgaum to the effect on 04/10/2020 early morning unknown accused person on a blue coloured Aprillia scooter, stopped his car on the pretext of his scooter dashed by the complainant's Amaze car and snatched away his gold chain weighing 20 grams worth Rs 75,000/- from the complainant's neck when the complainant lowered his car window.
During the course of investigation, Calangute Police Team comprising of PI Nolasco Raposo , PSI Vishal Mandrekar, Police Constables Vinay Shrivastav, Suresh Naik after painstaking efforts apprehended the main accused person involved in this case namely Sunil Rathod, aged 24 years, a native of Bijapur and presently residing at Orda, Candolim. His detailed interrogation further led to the arrest of his associates namely 1) Shirish Irappanawar, aged 31 years r/o Thivim Goa 2) Sarvesh Raikar, aged 28 years r/o Panaji Goa 3) Rakesh Arolkar, aged 38 years r/o Thivim Goa. It is also revealed that all the above said four accused persons were working  as Bouncers for private security firm. 3 stolen mobile phones are recovered alongwith the gold in melted form. All the accused persons were produced before the JMFC Mapusa and remanded to 5 days police custody.
Further, accused Sunil Rathod will be further re arrested in another chain snatching case case registered upon the written complaint of Shri Chinmay Lodha r/o Pune wherein three accused persons intercepted him alongwith his friend at Baga and snatched two mobile phones , cash amount of Rs 6,500/- and gold chain with locket worth Rs 60,000/-. In this case, the main accused Sunil Rathod who is presently in police custody has already confessed his involvement and further his other two associates namely Nishan Mogar, aged 22 years, native of Karwar and presently residing at Torda, Porvorim and Birender Kumar, aged 25 years, a native of Bihar and presently residing at St Cruz are taken in custody. The above two associates will be produced for remand tomorrow. The stolen gold chain and mobile  phone has been recovered. Further investigations is in progress in both the cases by PSI Vikas Deykar and PSI Rajaram Bhagkar respectively under the supervision of PI Nolasco Raposo and overall supervision of SDPO Porvorim Shri Edwin Colaco and SP North Shri Utkrisht Prasoon.