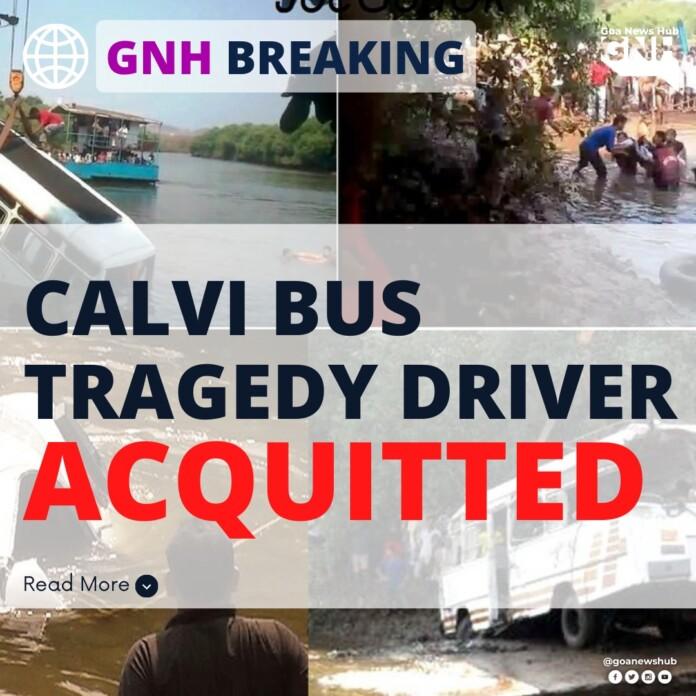 Panaji: Additional Sessions Judge North Goa Edgar Fernandes acquitted Rajesh Naik, driver of the ill-fated bus that plunged in Calvi river in the year 2012, that killed six passengers, including the minors.
Police had chargesheeted Rajesh Naik, who was driving the bus, for rash and negligent driving and culpable homicide.
It was alleged  that on February 18, 2012, Chandrakant Naik having knowledge about the non functioning of the hand brake of the bus bearing no GA-01-V-2285 and both its front tyre being worn out, handed over the bus to Rajesh Naik who having knowledge of the same, drove the bus in such a manner while proceeding from Lakhde to Carona ferry, and plunged the bus into the river due to which six passengers drowned and further that the accused Rajesh Naik fled from the spot, without making any efforts to save the lives of the passengers.
Advocate Damodar Dhond represented the accused.
The Court had discharged Chandrakant Naik from the charges on October, 2014 while charges were framed against Rajesh Naik.
The prosecution had examined 17 witnesses in support of its case. The accused had denied the allegations that the incident occurred due to the failure of brakes. He said that  the bus was very slow at the relevant time.
After examining the witnesses, the Court ordered that the prosecution had failed to prove either that the accused drove thebus in a rash and negligent manner or that he took the bus on a steep slope fully knowing that the bus will go in the river as its hand brake was not functioning and both the front tyres of the bus were worn out.