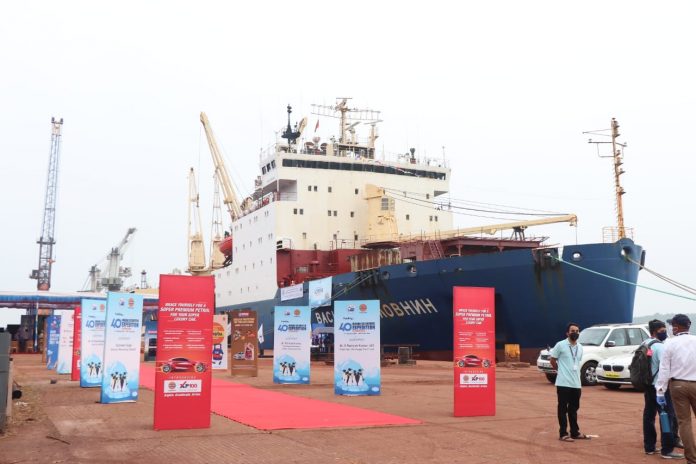 Vasco: Today at Mormugao Port, Goa, Mr. Gurmeet Singh, Director (Marketing), IndianOil and Dr. M. Ravichandran, Director, NCPOR flagged off the 40th Indian Scientific Expedition to Antarctica (40-ISEA) in presence of Dr E. Ramesh Kumar, Chairman, Mormugao Port Trust and Dr. N. Vinodkumar, Postmaster General, Goa Region.  The 40th Expedition marks four decades of Indian scientific endeavour in Antarctica and is being undertaken with the ice class vessel MV Vasiliy Golovnin which has a heli-hangar that accommodates two helicopters used for conveyance in the field and to move cargo between ship and the Antarctic stations.
India has two stations in the polar continent of Antarctica – Maitri and Bharati, which are being operated under National Centre for Polar and Ocean Research, Ministry of Earth Sciences (Govt. of India). Forty-three member team of scientists, engineers, doctors, and technicians led by three polar veterans, Dr. Yogesh Ray from National Centre for Polar & Ocean Research, Mr. Atul Suresh Kulkarni from Indian Institute of Geomagnetism, and Mr. Ravindra Santosh More from India Meteorological Department with different roles and responsibilities of managing Voyage operations, Bharati base operations and Maitri base operations share a common goal of rewriting the success story of the Indian Antarctic Programme under this year's special circumstances. Cautious steps have been taken to avoid contraction and spread of Covid-19 on board expedition vessel and the virus reaching Antarctica.
The expedition needs various types of fuel and lubricants for their logistic needs at the two Indian stations in the Antarctica. IndianOil's strength to provide complete energy solution to NCPOR via a single window is a feather in our cap and a support for "Make in India" objectives.
IndianOil has supplied Jet A1 fuel, lubes and Marine Gas Oil (MGO) as a bouquet offering for the prestigious mission. After about 22 years, yet again, Jet A1 has been supplied in bulk and packed form to a non-aviation customer and is delivered to an ocean-going vessel. The fuel will be used for aviation support and power generation units as well as in snowmobiles and for the voyage itself.
Highlighting the pivotal role of NCPOR in this vital mission, Dr. M. Ravichandran said, "Polar regions are crucially important in answering key questions about the global climate change, its contribution towards global sea-level rise, the background aerosol properties, variability in the sea ice cover and phenomenon like Antarctic haze and ozone concentrations.  Attempts to address some of these issues are helping in mitigating several important problems concerning human life and well-being. The 40th ISEA is a comprehensive program and shall focus on climate change related studies, geology, ocean observations, electric & magnetic flux measurements, environmental monitoring etc. Adding on Mr Javed Beg, Group Director (Antarctic Operations & Infrastructure) said, "Every expedition is different and presents diverse challenges, but the 40th expedition is unique as it takes place amid the coronavirus pandemic with innumerable logistical challenges.  The expedition apart from science shall carry the humanitarian responsibility of relieving the 48-strong winter crew from their 15-month tenure while resupplying the bases with food, fuel, provisions and spares for operations and maintenance of life support systems.
In his keynote address on the occasion, Mr. Gurmeet Singh said, "Historically, IndianOil has been a preferred fuel partner in national endeavours, such as the defence services and railways. And now with its association with the 40th ISEA, the Corporation has earned the unique distinction of providing uninterrupted availability of petroleum products from the coldest region of the country – from Leh to the coldest region of the world – Antarctica."
"Delivering greatest value across its spectrum of customers has been the motto of IndianOil. The Company has had many prestigious firsts: it was first in the country to supply bunker fuel with the new specifications mandated by the International Maritime Organisation. IndianOil is also the first oil company in the country to produce BS-VI compliant winter-grade High Speed Diesel (HSD) capable of withstanding extremely low temperatures of up to -33 degree centigrade in winter in the Himalayan region and supply of NATO-grade HFHSD (High Flash HSD) for the Indian Navy from Paradip and Haldia refineries," he added.
With the progressive vision of Make in India in perspective, the year 2021 will be an important year for the country's oil major. The company is observing 2021 as the "Year of Opportunities" and is on a mission to provide the country with natural gas infrastructure from CNG to LNG and usher in the era of biofuels by setting up a bio-refinery at Panipat and commissioning compressed biogas (CBG) dispensing units. The company has also issued Letters of Intent to entrepreneurs for setting up 295 CBG plants across the country for production of 0.6 MMTPA of CBG under the Government's SATAT (Sustainable Alternative Towards Affordable Transportation) scheme. In the field of electric mobility, IndianOil has signed MoUs with potential partners for setting up charging and battery swapping stations. The company has also taken a minority stake in Phinergy Ltd. of Israel with the intention of setting up aluminium-air battery manufacturing facility in India for electric vehicles.
Geared to provide all types of energy solutions under one roof – from petrol and diesel to CNG, H-CNG, CBG and electric charging stations, IndianOil is moving fast to increase the country's fuel generation capacity without increasing its crude oil import bill.